Braised Chicken Thighs with Sauerkraut
I really like sauerkraut. The sweetness and sourness is something that I like. This recipe adds a lot of things that I like and I am pleased every time I cook this. I cook it with chicken thighs, but it could probably be cooked with other parts of chicken or even pork.
Ingredients
5 slices bacon, cut crosswise into thin strips
8 chicken thighs (about 2 1/2 pounds in all)
3/4 teaspoon salt
1/4 teaspoon fresh ground black pepper
1 teaspoon of curry powder
1 onion, chopped
1 carrot, chopped
1 celery stalk, chopped
1 tart apple, such as Granny Smith, peeled, cored, and chopped
3 cups sauerkraut, drained and rinsed (about 1 1/2 pounds)
1 cup low sodium chicken broth or homemade stock
1 teaspoon Dijon mustard
10 juniper berries, lightly crushed
1 bay leaf
Cooking Directions
In a large deep frying pan, cook the bacon over moderate heat until crisp. Remove with a slotted spoon and reserve.
Season the chicken thighs with 1/2 teaspoon of the salt, the pepper and curry and add to the pan in batches if necessary. Cook, turning, until browned, about 8 minutes. Remove from the pan. Pour off all but 1 tablespoon of the fat.
Add the onion, carrot, celery to pan. Sweat for 5 minutes. Add apple and bacon to the pan. Cook over moderate heat, covered, for 5 minutes. Stir in the sauerkraut, broth, the remaining 1/4 teaspoon salt, the mustard, juniper berries, and bay leaf. Arrange the chicken in an even layer on top. Bring to a simmer, reduce the heat, and cook, covered, until the chicken is just done, about 25 minutes.
Remove the chicken from the pan and discard the bay leaf. If too much liquid remains in the pan, raise the heat to moderately high and cook until slightly thickened. Serve the sauerkraut topped with the chicken.
Cooking Notes
The curry is something I added because when I first started with this recipe, I was really into curry. I do like the extra flavor it adds, but it can be removed. Each time I make this, I add at least one additional season. I have added oregano, basil, or thyme as herbs, and have tried a touch of cumin or Chinese 5 spice, I am considering making this with the crushed, toasted star-anise on top.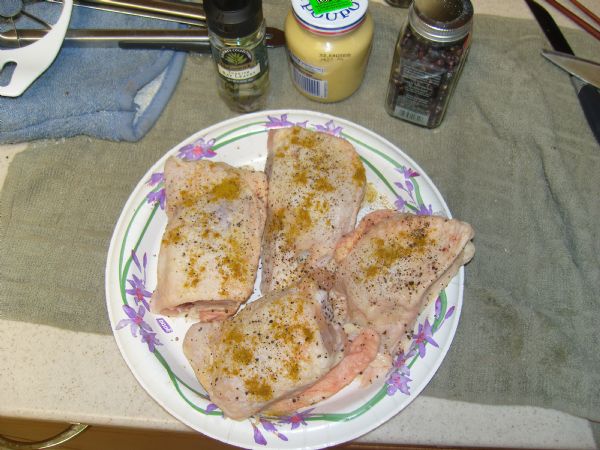 Season the Chicken Thighs (salt, pepper and curry)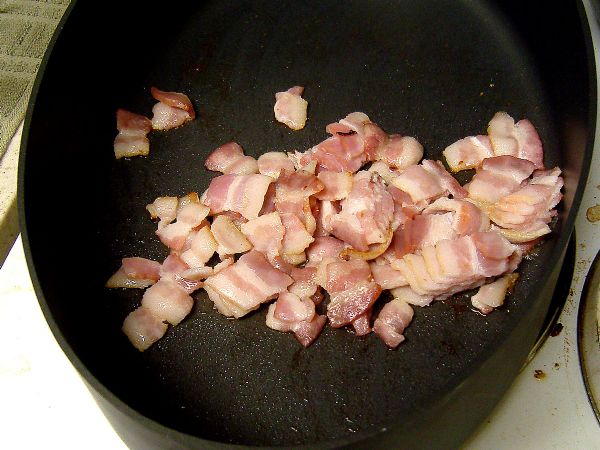 Cook the Bacon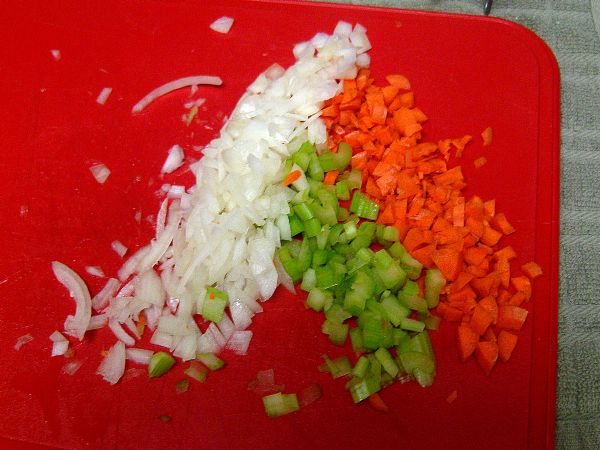 Chop the mirepoix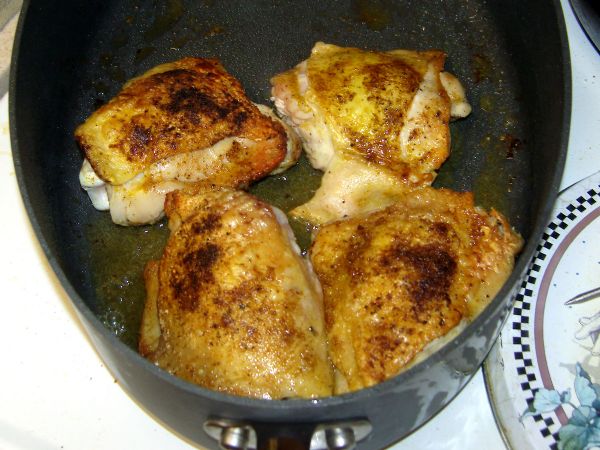 Brown the chicken thighs in bacon grease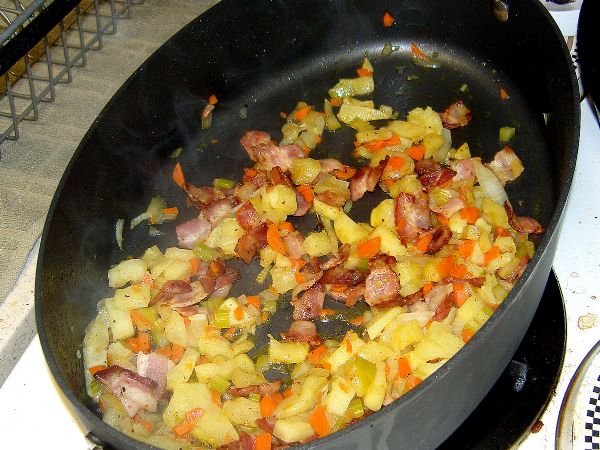 After sweating mirepoix, add apple and bacon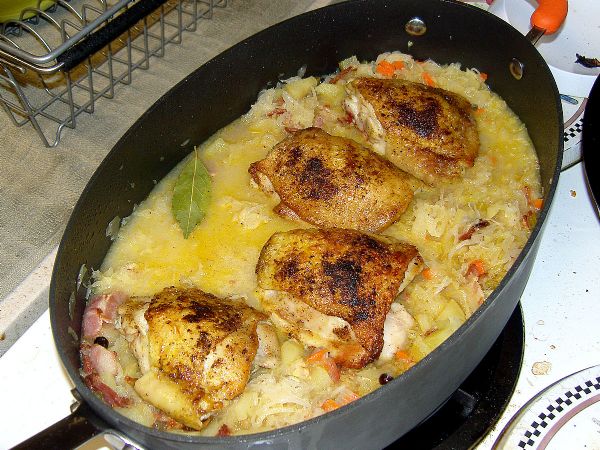 Braising on the bed of sauerkraut, mustard, bay leaf and juniper berries (cover removed for picture)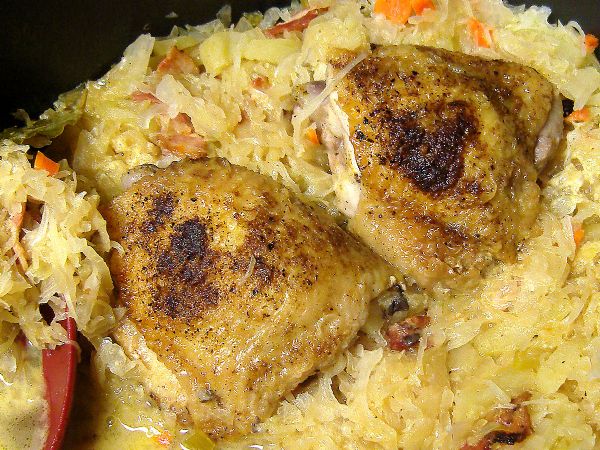 Done - Ready to serve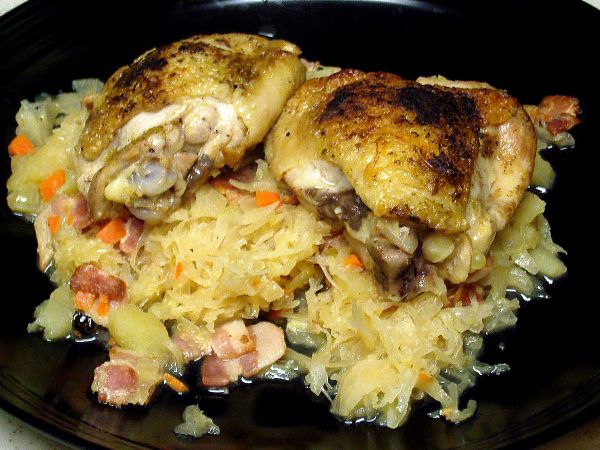 Serve over the bed of sauerkraut