It's no secret that I like schnitzel. It has been one of my favorite meals for as long as I can remember. When we were in Germany, every restaurant I would go into, I looked to see if they had schnitzel. It was always a little different - the schnitzel in Vienna was probably the best (and rightfully so), and also the biggest.
Over time, when I have made this, it is normally with thin pork cutlets - sometimes called breakfast cuts - that I would pound thinner. In Korea, I don't have the option to buy thin cut pork, so I just bought the regular size boneless pork chops, beat them thin, and then cooked them in the method described here. The things I have gotten better at are measuring the temperature of the oil to make sure they cook at the right speed, and then finishing them in the oven (particularly if I make more than just for me).
I like these so much just topped with lemon juice, but one of these days, I am going to work on my schnitzel Hawaii (which was my most popular ordering variation while in Europe), adding pineapple and cheese (and maybe even some ham).
Ingredients
4 Pork Cutlets
2 Tablespoons Flour
1 Egg, Beaten
1 Cup Bread crumbs
2 Tablespoons Parmesan Cheese
3 Cups Vegetable Oil (or Canola Oil)
1 Lemon
Cooking Directions
Beat the pork thin. I usually place these inside a ziplock bag to beat thin (that saves a splatter mess, plus makes it easier to coat with the flour). I also used to use the textured side of the beater, but recently I have just used the flat side, since the meat is usually tender enough.
Add flour to bag and coat the chops.
Beat the Egg in a mixing bowl. Place pork in the egg, coving both sides with egg.
Mix the cheese and the bread crumbs together. Coat both sides with bread crumbs. Set aside.
Heat oil to 375 degrees. It's best to have enough oil to submerge the schnitzel (although in the pictures, you can see that I was a little short of that amount). Flip the schnitzel after 2 minutes (if the oil gets too hot, you will flip sooner). Continue to cook until internal temperature is at least 168.
Set on rack to drain oil.
Serve with lemon slice / lemon juice.
Cooking Notes
If you are going to finish them in the oven, the oven should be heating to 350 degrees. Usually when I make more than 2, I will get the oil hotter (400 - 450) and it takes just 30 seconds to make the bread crumbs form the desired crust (without burning).
Set the schnitzel aside onto a draining rack and then place into a pan for baking. 15 minutes should be enough (again, get the internal temperature to 168).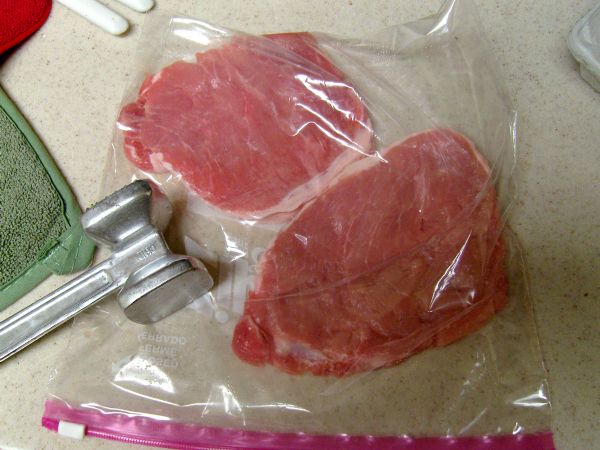 Beat pork in bag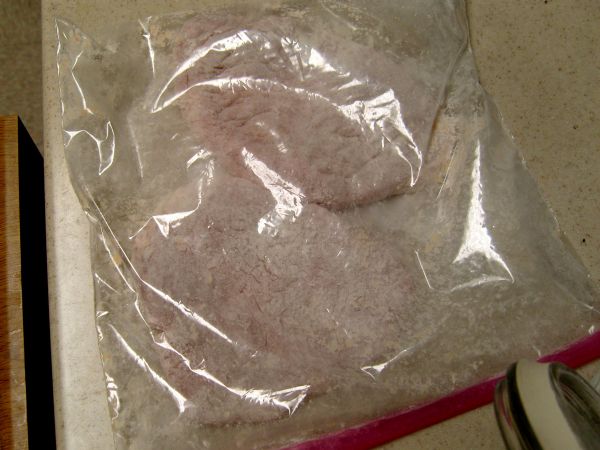 Add flour to bag to coat the pork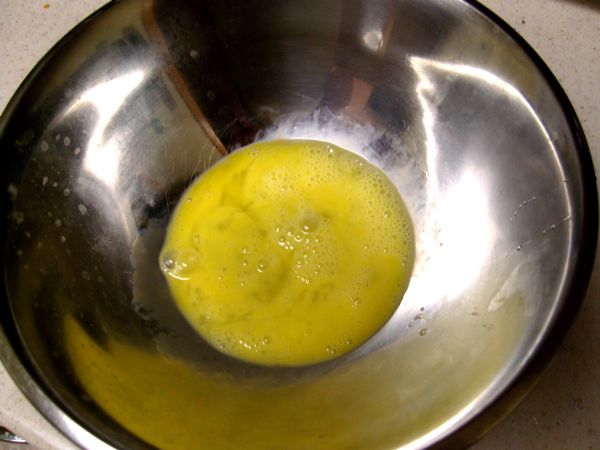 Beat egg in bowl (I just use a fork)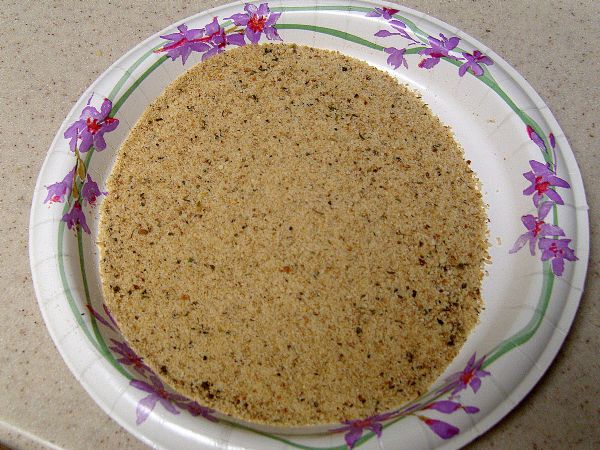 Add breadcrumbs to plate. Mix in parmesan cheese (not shown)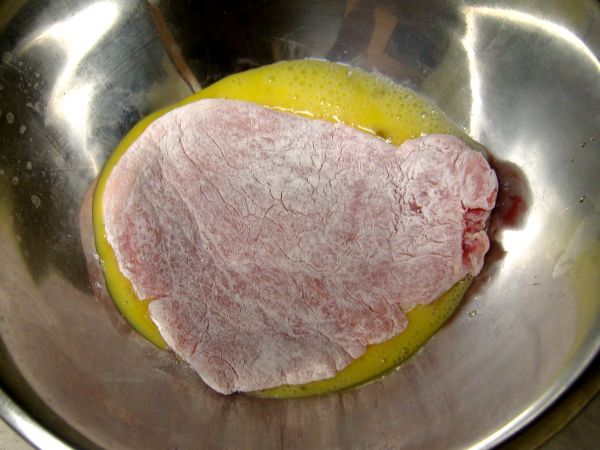 Coat schnitzel with egg (the flour gives the egg some texture to stick to the pork)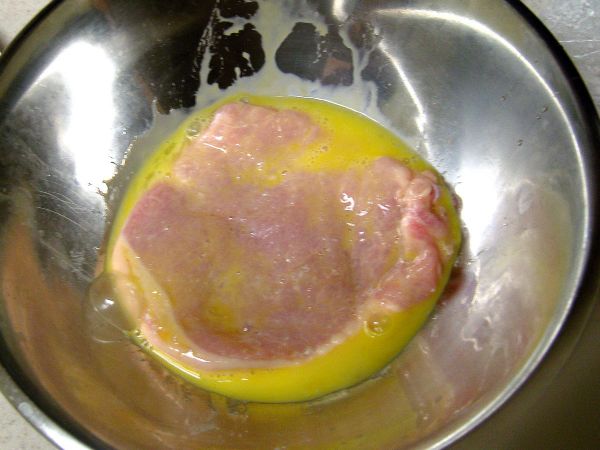 Coat other side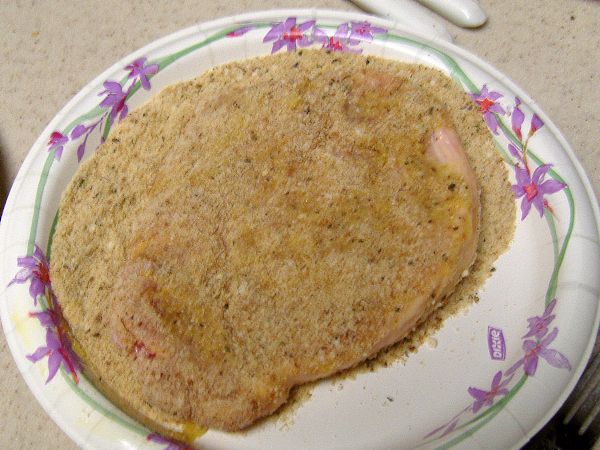 Coat with breadcrumb/cheese mixture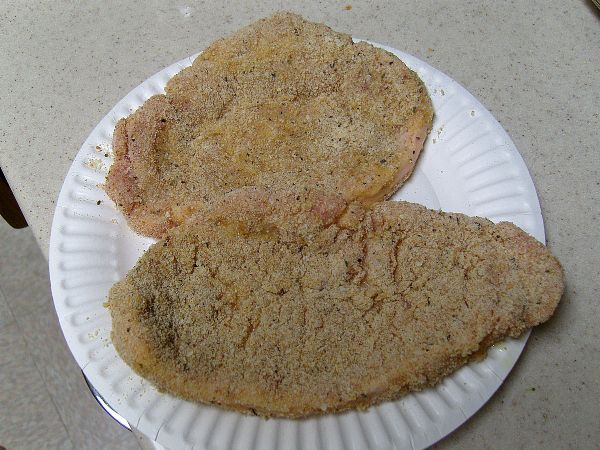 2 Coated pieces of pork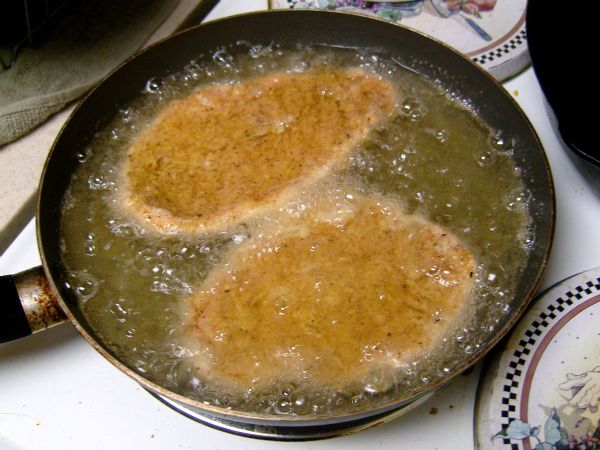 Add to oil (around 375 degrees) . The oil covered the right piece, but not the left in this case.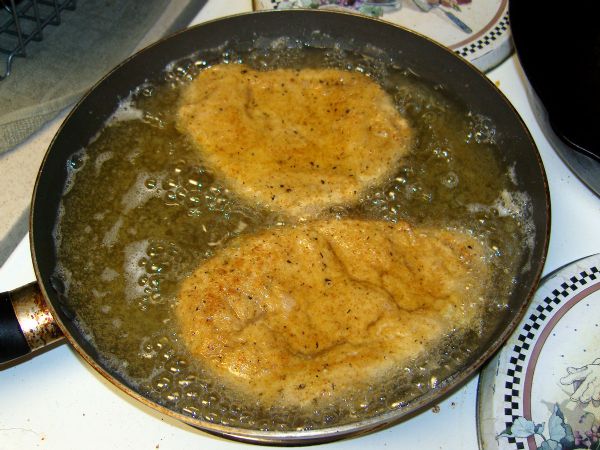 Flip. Cook other side.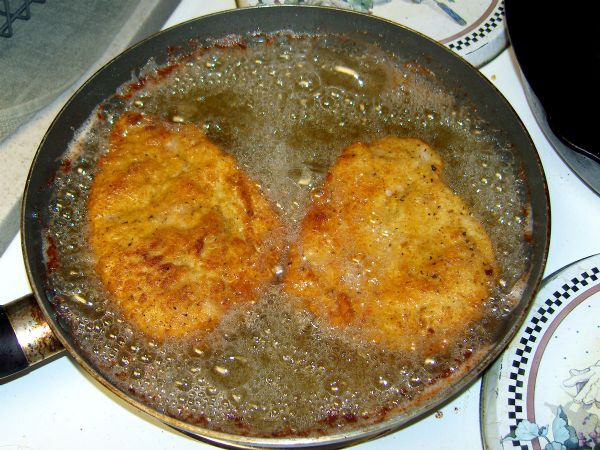 I flipped these again. I wasn't planning on finishing these in the oven, so I continued to cook.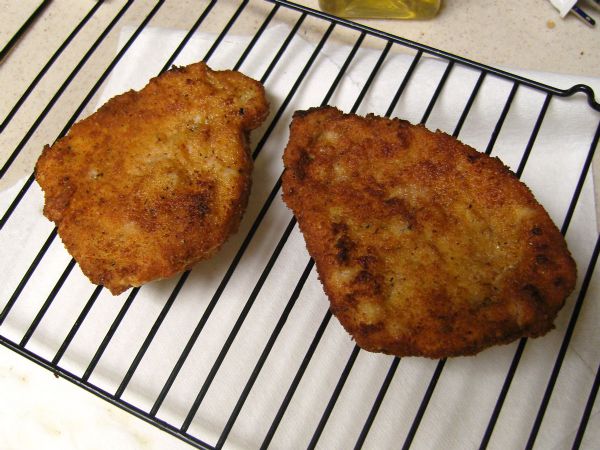 Let the oil drain on cooling rack. Serve hot.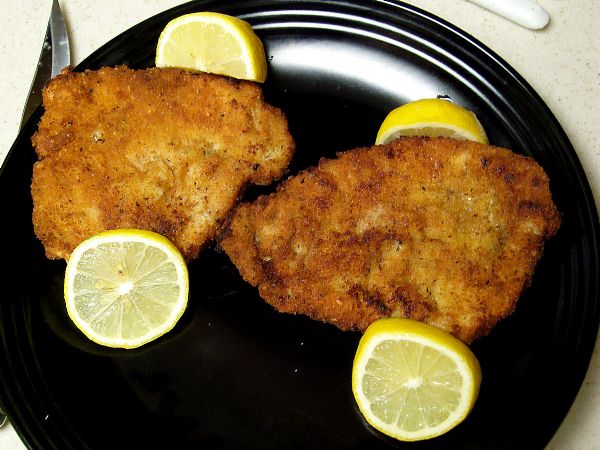 Pork Schnitzel served with Lemon