In Korea, there were a few vegetables that I could always buy in the Commissary, but it was not a very large selection. In an attempt to bring variety into my menu, I started looking for ways to incorporate some of the side items into my meals. The first time I bought zucchini here was for my
Italian Sausage Tortellini Soup
, which was as good as ever. Many years ago, I used to make a cheesy zucchini dish that I remembered liking, so I decided to pick up some more zucchini and incorporate it into my cooking.
Another thing I can generally always find here is pork chops, so looking for a way to pair the two ingredients seemed like a good idea. This recipe involves braising the chops and the zucchini (although the zucchini on top of the chops really steams more than braises). Again, this is a very tasty, balanced meal (flavored by the wine sauce -- that could probably be thickened into a topping with a little effort).

Ingredients
2 tablespoons flour
2 tablespoons shredded Parmesan cheese
1 teaspoon salt
1/4 teaspoon pepper
2-6 Pork Chops (boneless or boned, either way) -- the ingredients will fluctuate slightly depending on the number you make, but it is easy to figure out.
1 tablespoon olive oil
3 zucchini
1/3 cup of water
1/3 cup of white wine
1/2 teaspoon paprika
Cooking Directions
In a large zip-lock bag, add the flour, cheese, salt and pepper. Put the pork chops in the bag and coat.
In a large skillet over medium-high heat, brown the pork chops on both sides (6-8 minutes per side). Reduce the heat. Add water and wine to skillet. Cover and simmer for 15 minutes. While cooking, slice the zucchini into 1/4 inch slices (diagonal or straight, depending on your preference). Place the zucchini on top of the pork chops. Sprinkle the rest of the flour (from the bag) over the chops. Add extra Parmesan cheese if desired. Sprinkle paprika over top. Cover and simmer for an additional 25 minutes.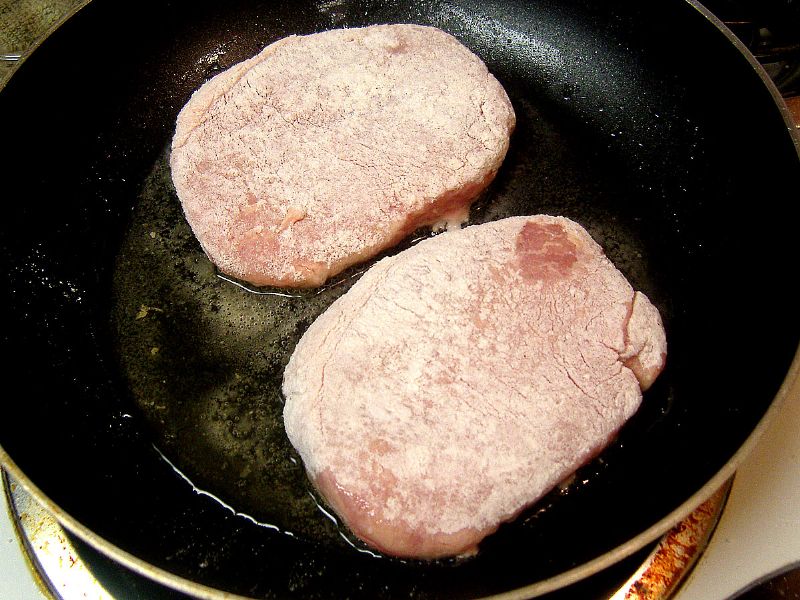 After coating with flour, heat oil and cook chops on medium high heat for 6-8 minutes per side.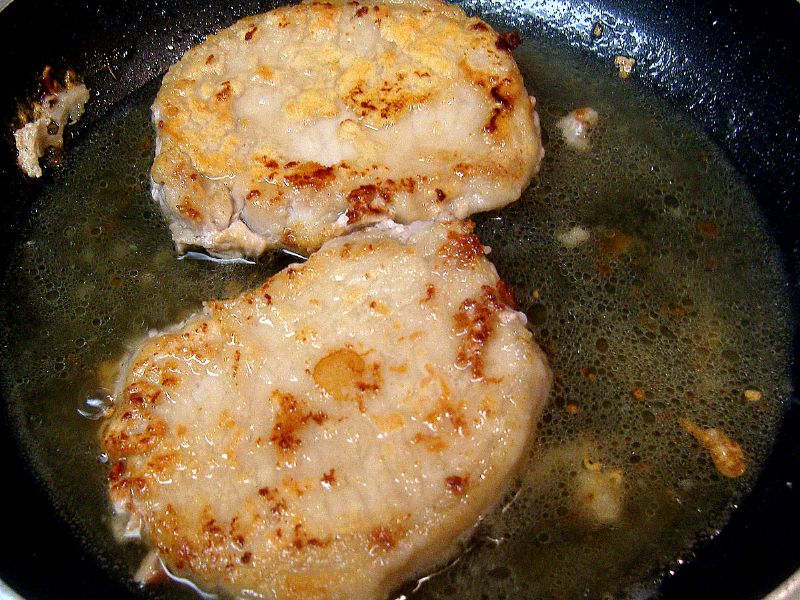 Browned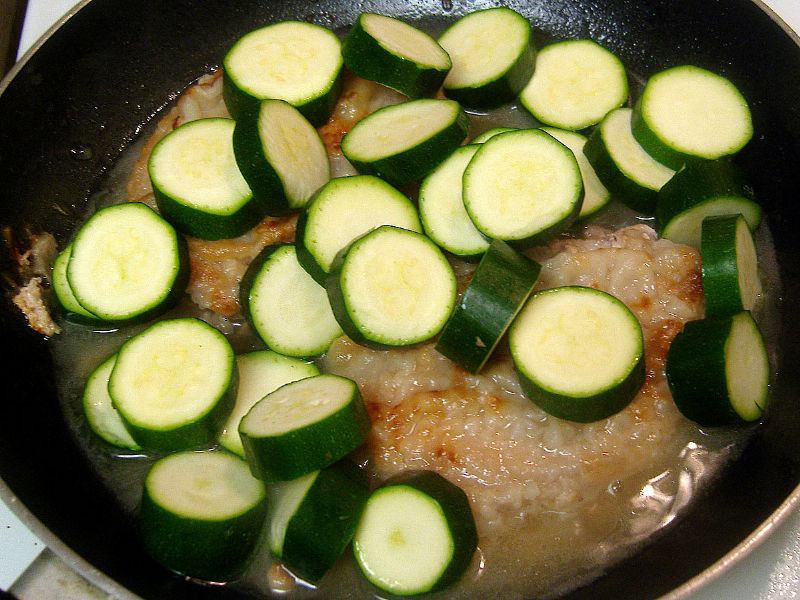 Water and wine added (not shown) and cooked for 15 minutes. Top the chops with zucchini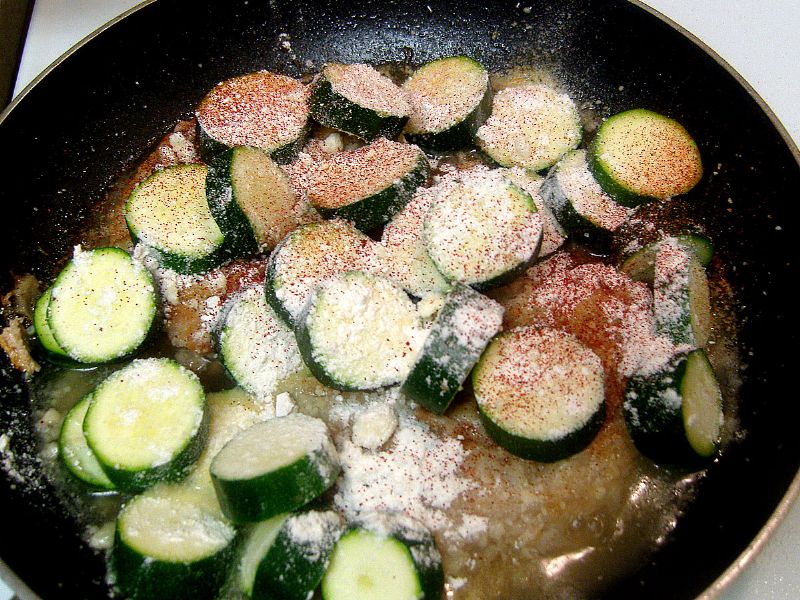 Add flour, extra cheese (if desired) and paprika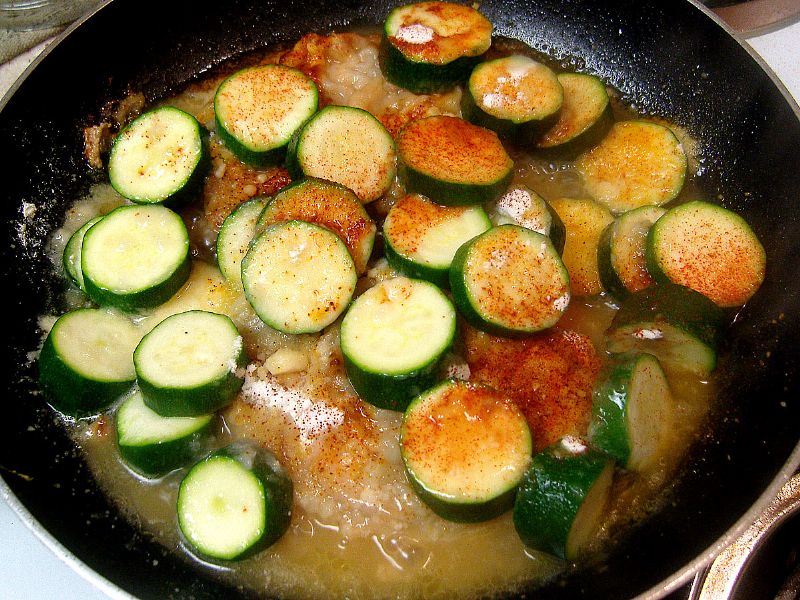 Cooked (I probably could have coated this more evenly with the paprika)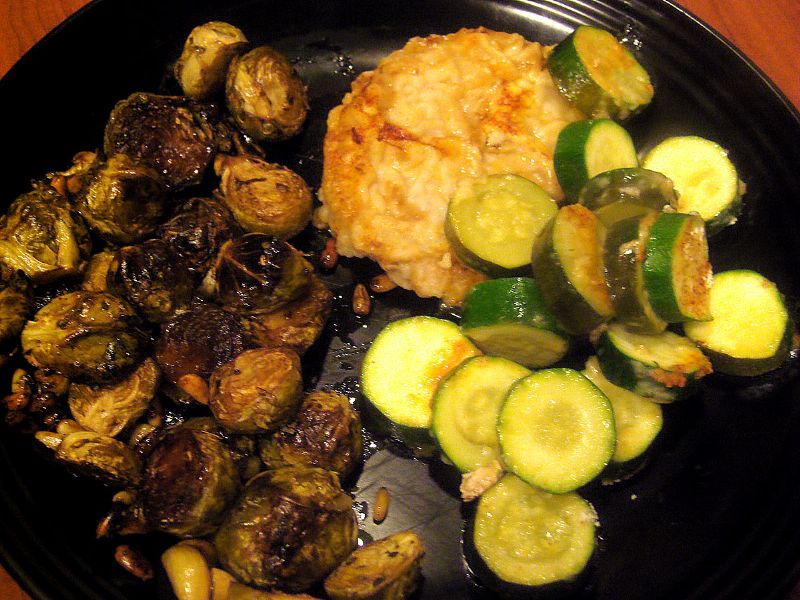 Served (with roasted Brussels Sprouts here)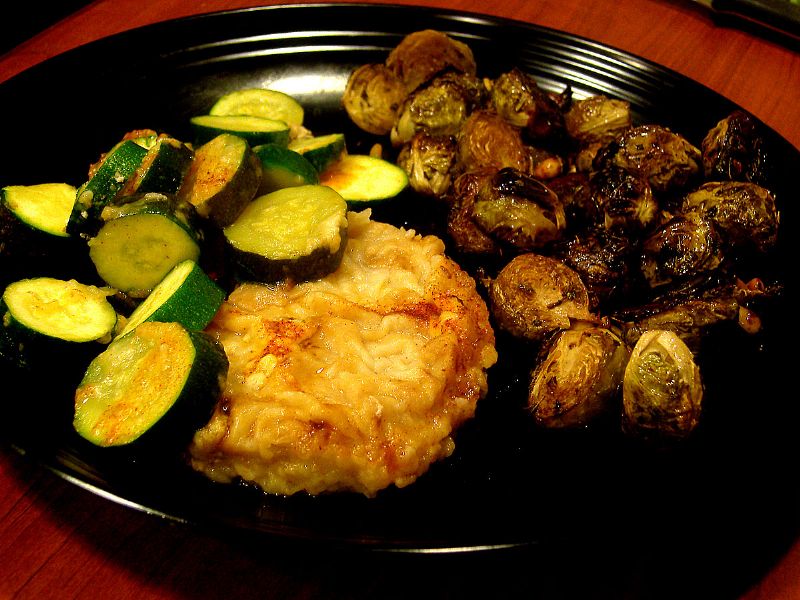 Skillet Pork Chop Zucchini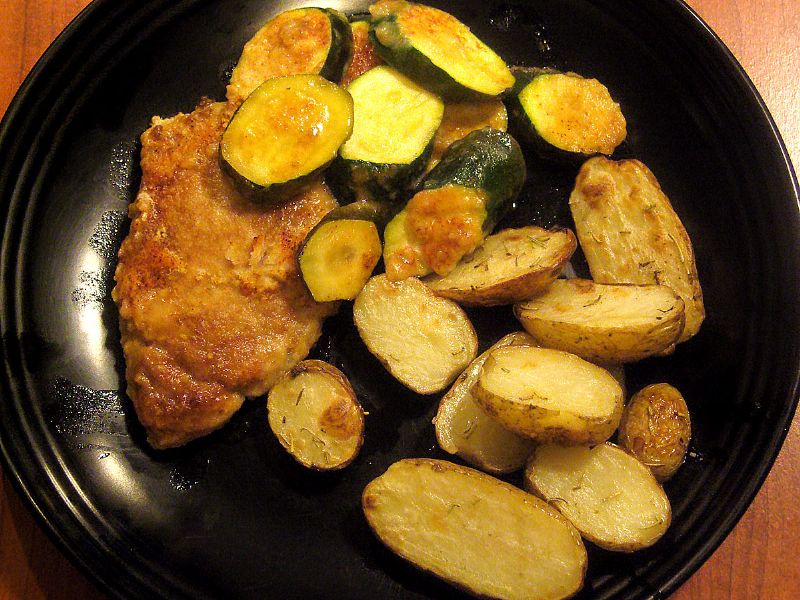 Here with rosemary potatoes (and crispier chops)