At this point in my cooking, I have come to realize that making cookies is actually very easy to do - and adjusting the recipe based on your own needs is also easy. I like my cookies big and chewy - and oatmeal cookies are easy to adjust to make nice and chewy.
Ingredients
1 cup of butter, softened
1 cup white sugar
1 cup dark brown sugar
2 eggs and 1 egg yolk
1 teaspoon vanilla extract
2 cups of white flour
1/4 cup baking cocoa
1 teaspoon baking soda
1 teaspoon salt
1 teaspoon ground cinnamon
1 teaspoon ground cloves
3 cups Quaker oats
1/3 cup raisins (if just raisin, make this 1 full cup)
1/4 cup shredded coconut (optional)
1/2 cup chocolate chips (optional)
Cooking Directions
Heat the oven to 375 degrees.
If you are going to use whole cloves, toast them and grind them. I like to toast the oatmeal in butter - if you are going to do that, do that up front. Both of these are optional - you can use ground cinnamon and untoasted oats. Also, cloves are optional, but recommended (and you can use ground cloves if you want).
Cream together the butter and sugars. Beat in the eggs, one yolk at a time and stir in the vanilla.
If you are going to use fresh cinnamon, grate it. Combine the flour, baking soda, cocoa, salt, cloves and cinnamon. Fold into the butter mixture, using a hand blender to blend.
Mix in the oats.
Optional -- mix in raisins, coconut and chocolate chips. If you just use raisins, mix in 1 cup. You can use any kind of chip -- in the pictures, I use butterscotch.
Roll the dough in same sized balls (about the size of walnuts) and place 2 inches apart on a cookie sheet. Flatten each cookie.
Bake for 10-12 minutes. Allow to cool on the baking sheet for 2 minutes and then move to a cooling rack.
Cooking Notes
You could also melt the butter if you want the cookies even chewier.
If you want more of a crunchy cookie, only use two eggs and use a lighter brown sugar. Also use smaller balls and press even flatter. Cook for 1 additional minute.
I don't normally take a mis en place picture for the cookies, but this recipe is a bit more complex, so I wanted to show everything.
Clockwise from the top (spiraling):
Butter
Oats
Flour
Eggs
Cinnamon
White Sugar
Brown Sugar
Coconut
Baking Soda
Vanilla
Salt
Cloves
Butterscotch Chips
Raisins
Not Shown: Cocoa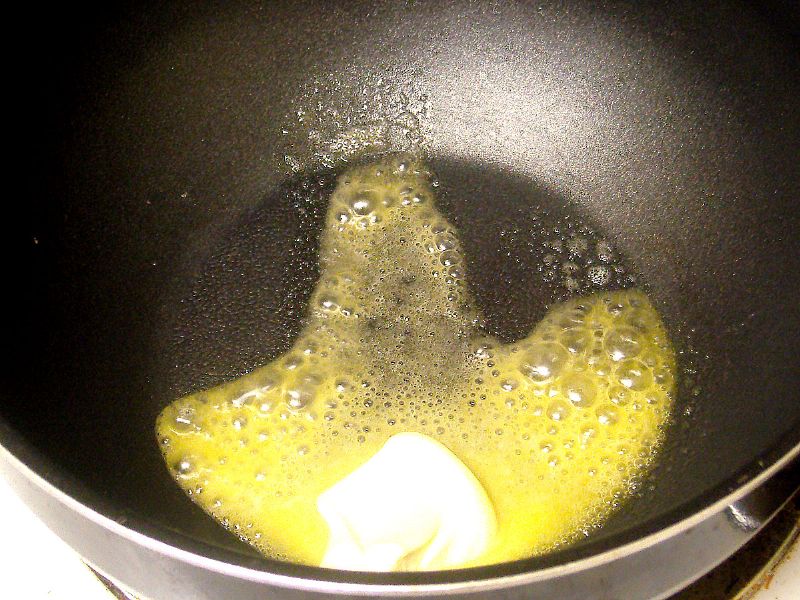 Melt butter - for oats.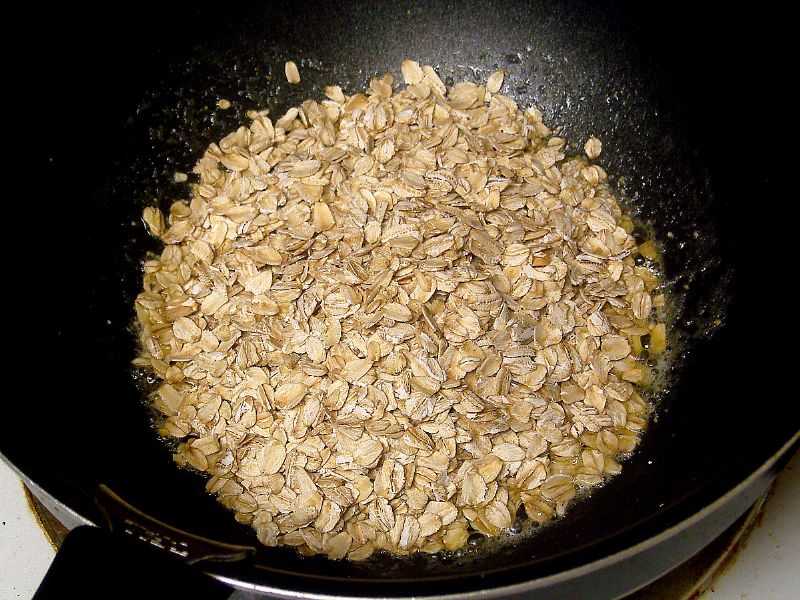 Optional - Toast oats (this takes about 2 minutes)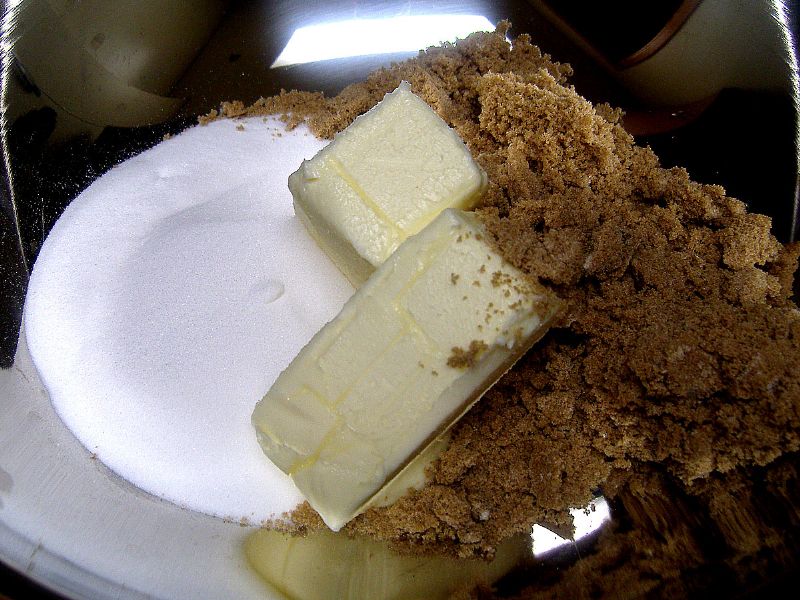 Mix butter and sugars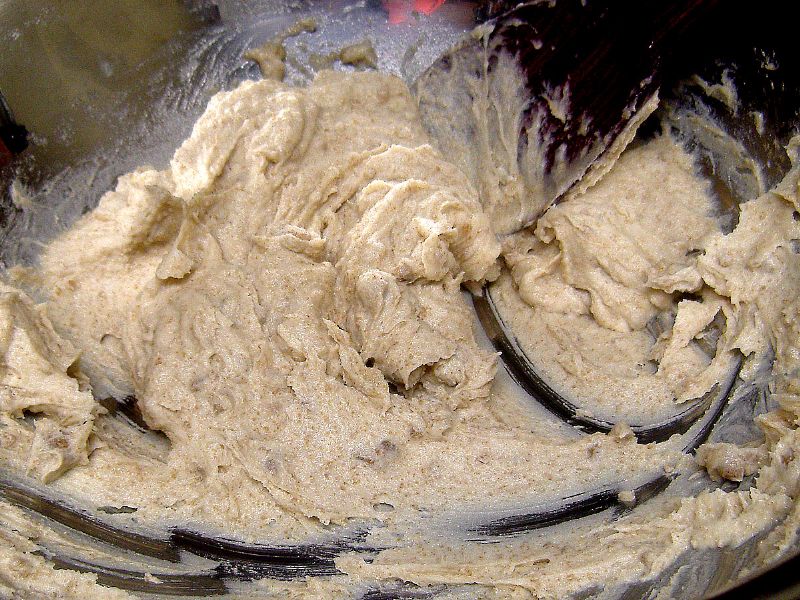 Cream together the sugars with the butter.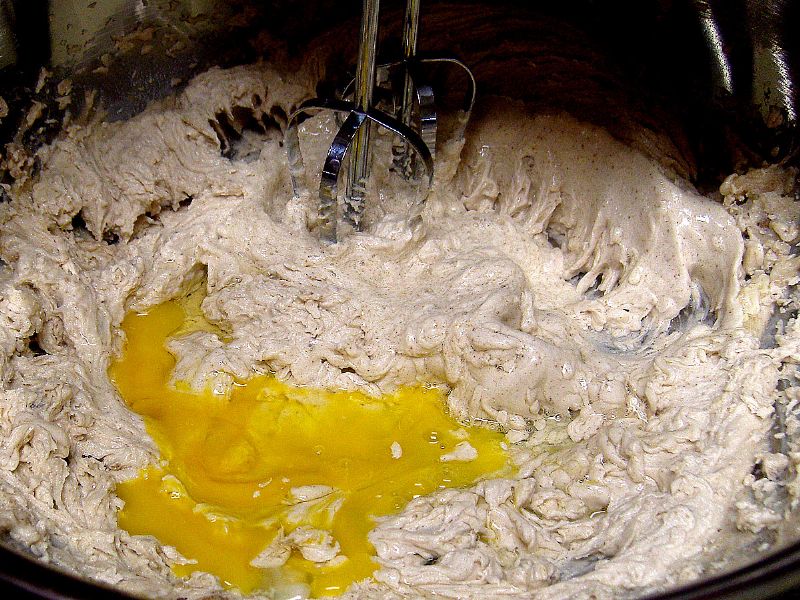 Beat in the eggs, one yolk at a time.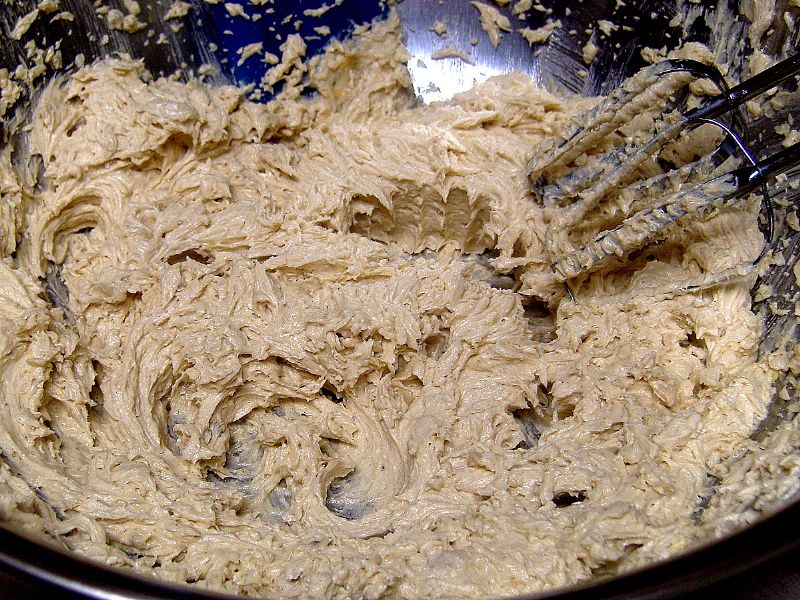 Beaten together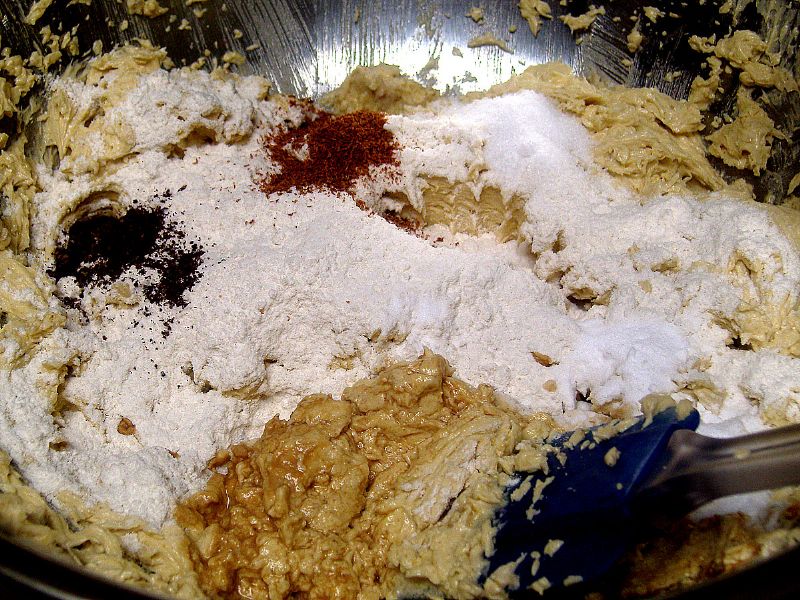 Add in the flour, baking powder, salt, cloves and cinnamon (after adding the vanilla (not shown))

Also mix in the cocoa. When I took these pictures, I didn't add the cocoa - but the next time I added to cocoa mainly for color - but the end result of the cookies was so good that I will always add it in the future.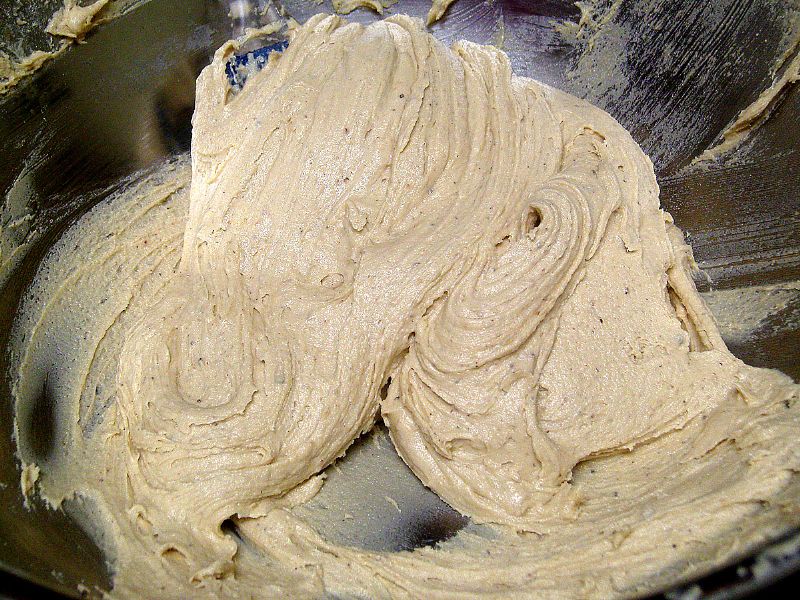 Mixed together.
At this point, if you have been following the other cookie recipes, you can see that this is pretty much the same (maybe some minor changes with butter, shortening and other things mixed with the flour), but the basic steps are the same:
Cream softened butter with white sugar and brown sugar (the higher brown to white, the softer the cookies). Mix in the eggs - if you want a softer cookie, add the extra yolk. Mix in the flour -- at this point, there are some different combinations of baking soda, baking powder, cream of tartar and powders (like cocoa, or in this case, cinnamon and cloves). Then, mix in the other ingredients (in this case, the oats -- otherwise it could be the chocolate chips or walnuts or whatever the main ingredient is). Just wanted to point that out.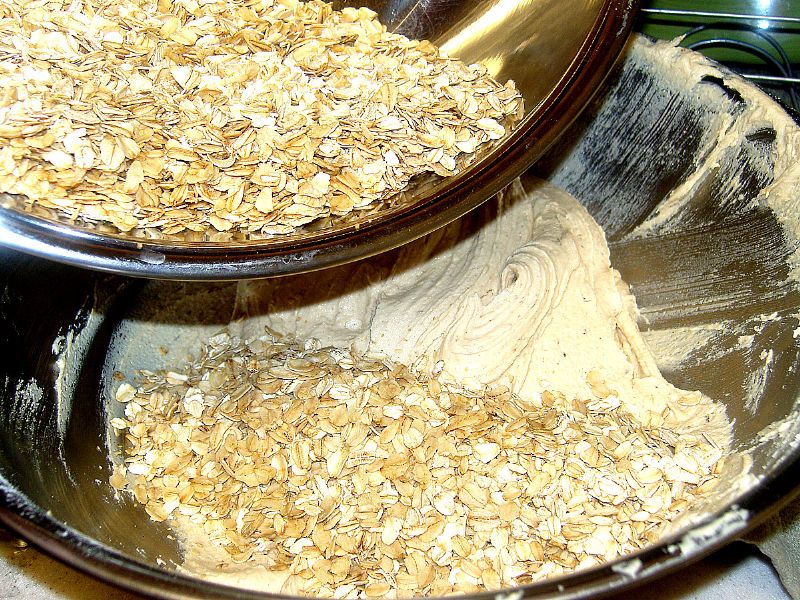 Mix in the oats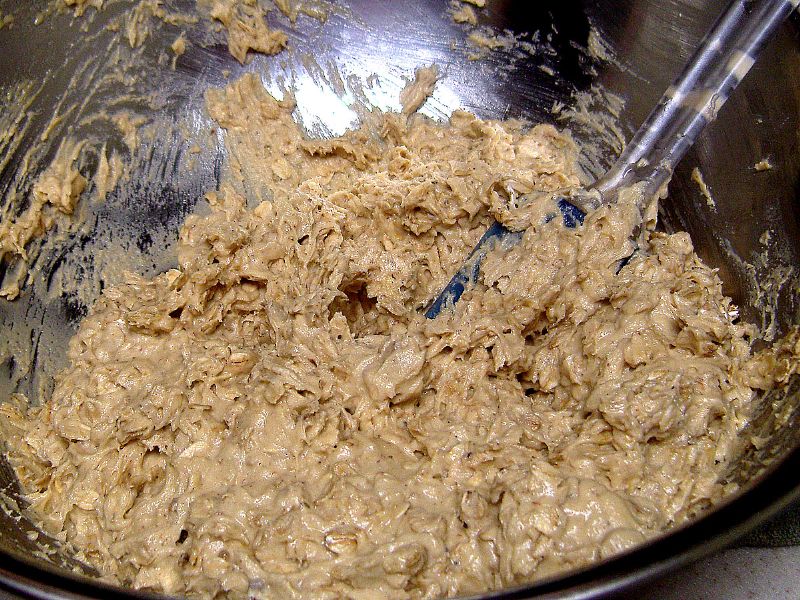 Mixed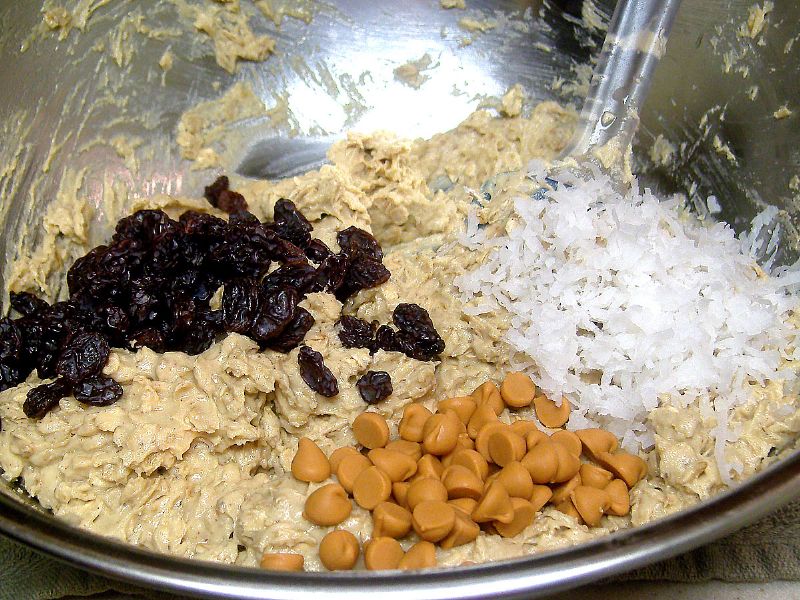 Optional - mix in the raisins, chips and coconut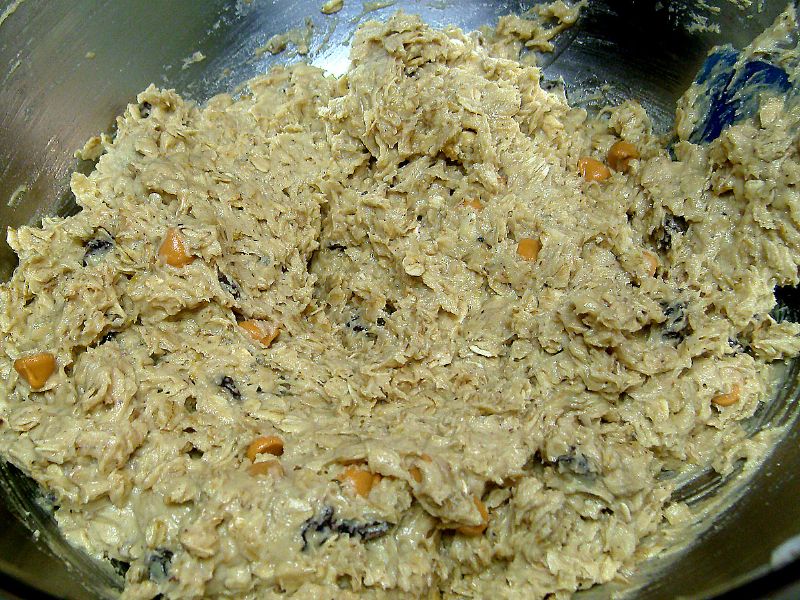 Mixed together.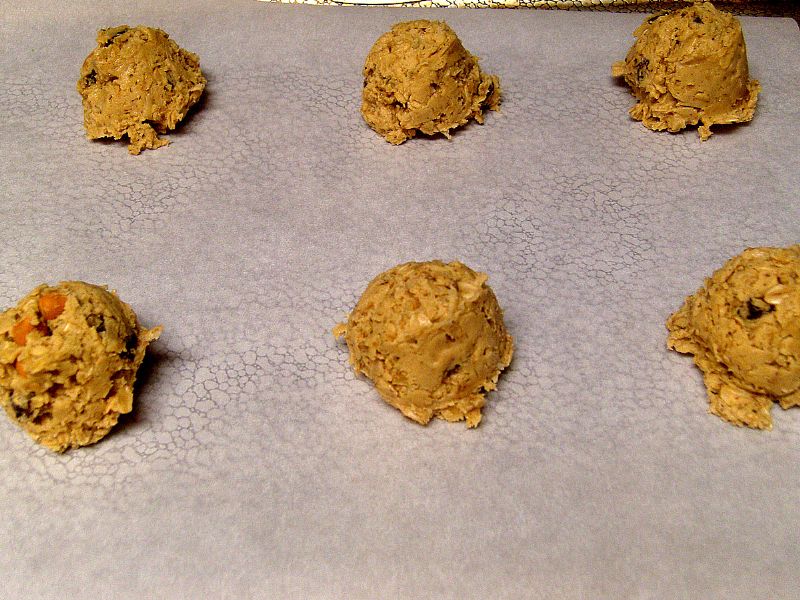 Walnut sized balls - I chilled these for an hour as well.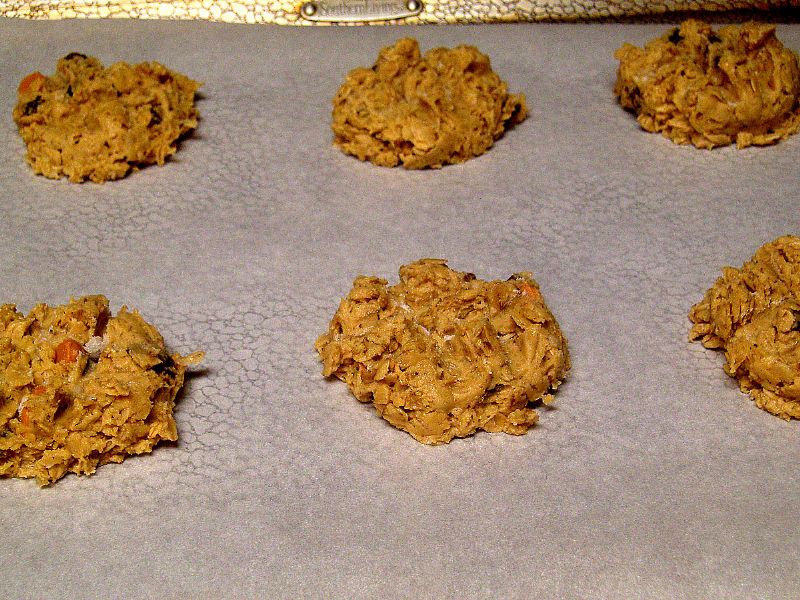 Flattened (I used a fork dipped in sugar - not sure I'll do that again).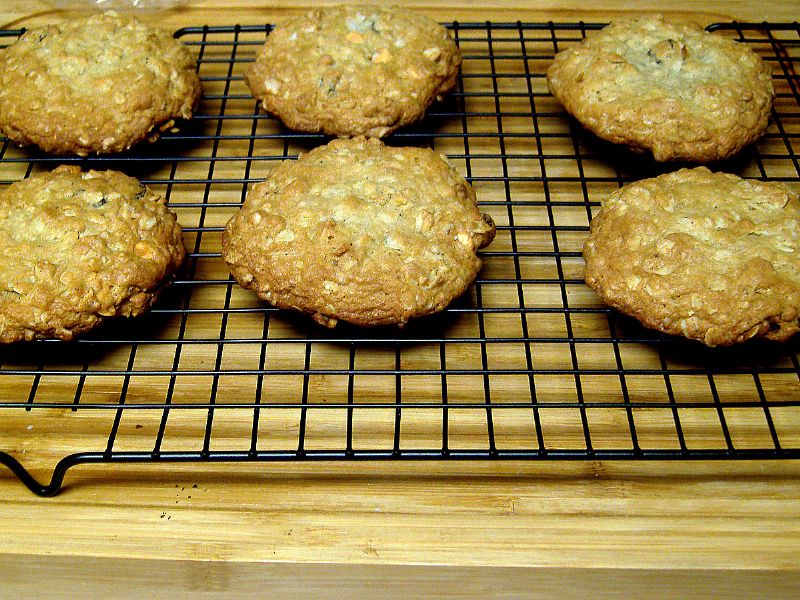 Cool on rack.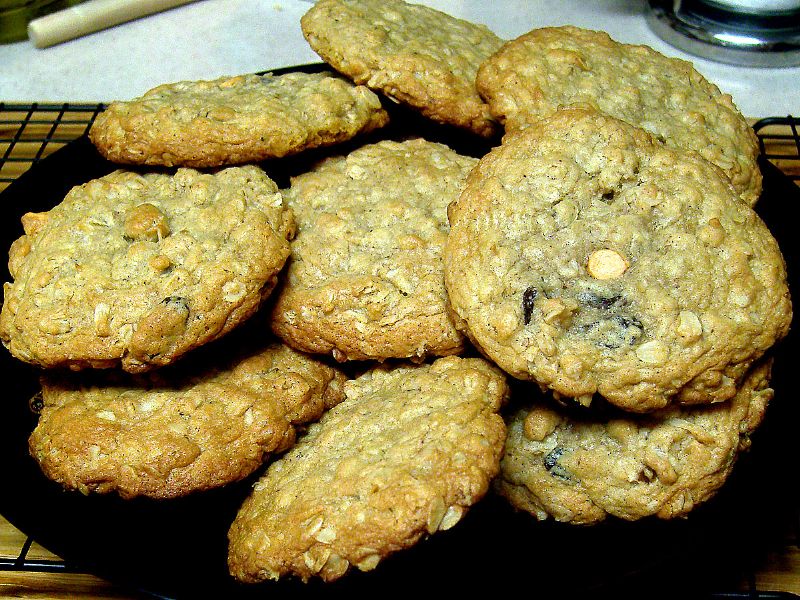 Serve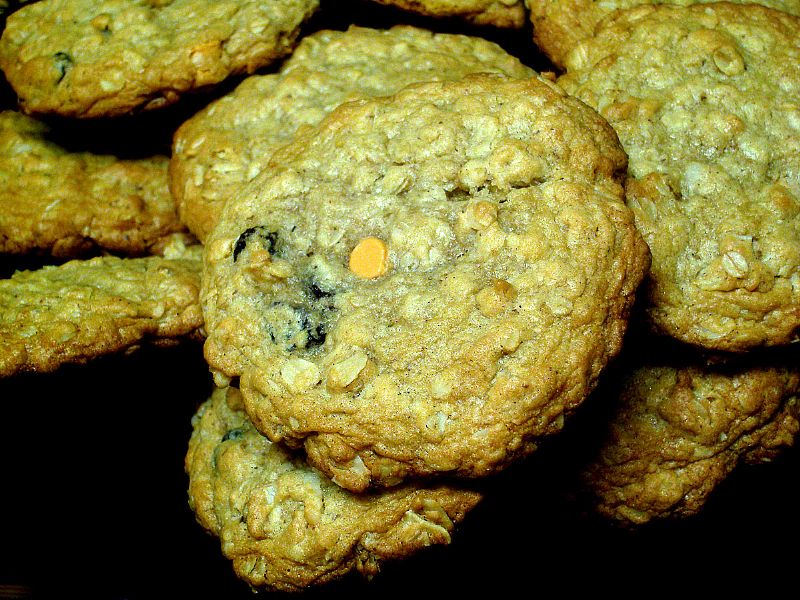 Oatmeal Raisin Cookies