I like broccoli, but sometimes I don't feel like steaming it (and want something different). I really like this recipe because I also like the zip of lemon flavor. One time I made it, and my guest couldn't get enough of it (finishing his portion before cutting into his steak - which I knew was cooked very nicely). The bacon and cheese could be omitted to make it healthier - but who wants to live in a world where you know that adding bacon and cheese makes it taste better.
Ingredients
1 pound broccoli, rinsed, trimmed and sliced thinly on a mandolin
1 tablespoon white wine vinegar
1 lemon, zested
1 tablespoon freshly squeezed lemon juice (or just the juice from one lemon)
2 teaspoons Dijon mustard
1 teaspoon kosher salt
Fresh ground black pepper
1/4 cup olive oil (I use a lemon olive oil)
6 ounces cherry or grape tomatoes, halved
3 ounces toasted pine nuts
6 slices bacon, chopped prior to cooking
2 oz fresh mozzarella cheese (optional)
Cooking Directions
Quarter 2 stalks of broccoli. Use a mandolin to slice the broccoli thin. Chop if the pieces are too long.
Whisk together the vinegar, zest, lemon juice, mustard, salt and pepper in a medium mixing bowl. While whisking constantly, gradually add the olive oil. Add the broccoli and toss to coat. Cover and place in the refrigerator for at least 1 hour.
Stir in the tomatoes, nuts and bacon. Cover and allow to sit, at room temperature or in the refrigerator, for another 15 minutes before serving. Top with cheese if desired.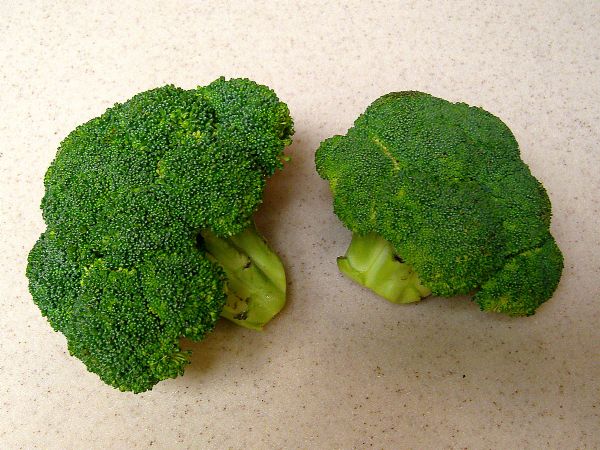 2 Fresh Broccoli Stalks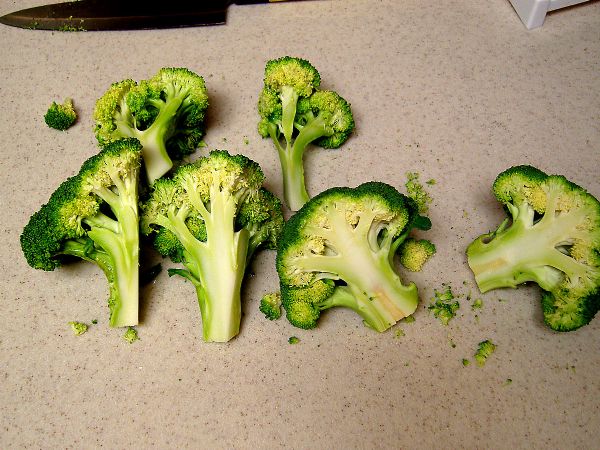 Quartered (makes for easier mandolining)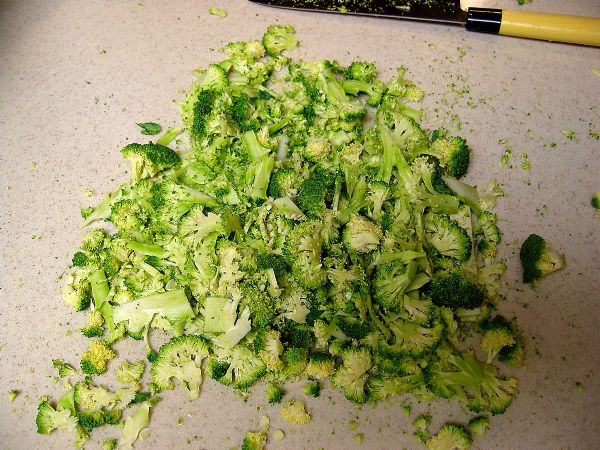 After using the mandolin and chopping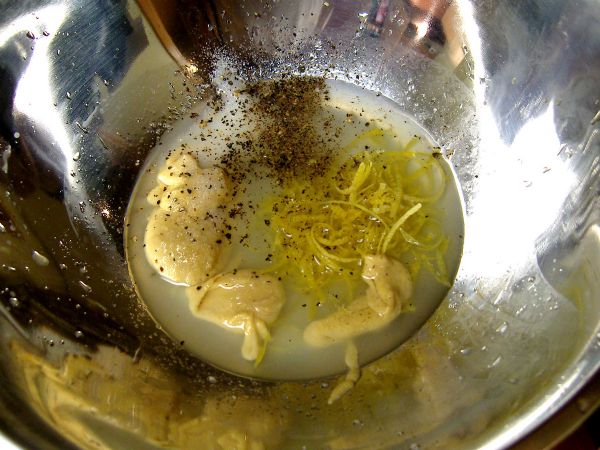 Add base ingredients for the vinaigrette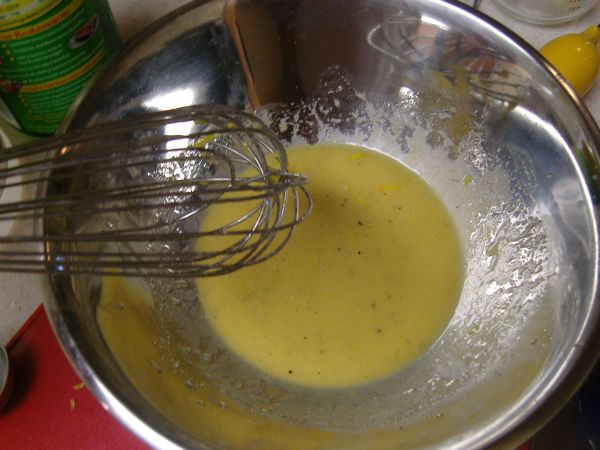 Whisk and then drizzle in the olive oil and continue to whisk until smooth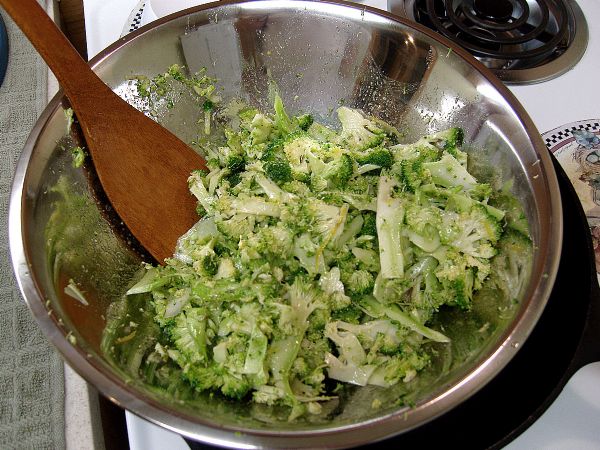 Fold the dressing into the broccoli and then cover and put in the fridge for at least an hour.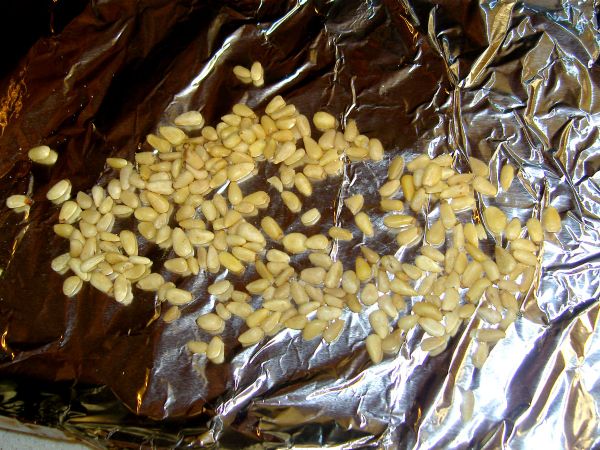 Toast the pine nuts while making the bacon. Here it is shown on a cookie sheet for the toaster oven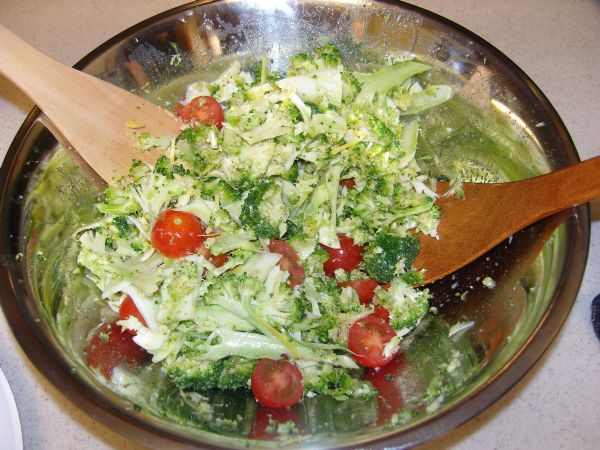 Halve the tomatoes and then add to the broccoli.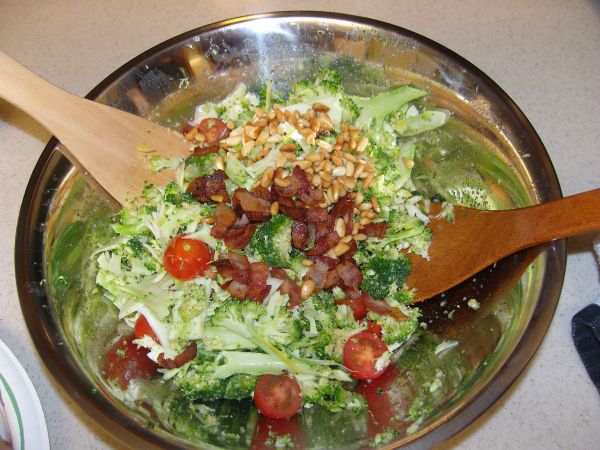 Add bacon and nuts. Top with cheese if desired (not pictured)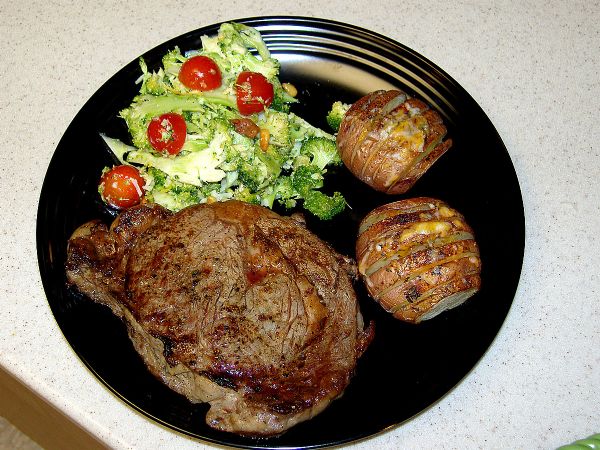 Broccoli Salad