I remember as a kid, my aunt used to send me Fudge every year for Christmas (or at least it seemed that way). When I set out to make fudge, I wanted something easy, and I found about 10 recipes that approximated the recipe on this page. Interestingly, some of them had more sugar (twice as much), more or less butter, more or less chocolate chips (or even different kinds), so it is good to know that you can vary this recipe and still come out with a satisfying outcome.
After I was completely satisfied with the base recipe, I wanted to put a twist on it (something that was uniquely mine), and I since I was on a cinnamon / nutmeg kick, I put that in and found a great flavor. I did want to leave the base recipe here, in case you are looking for a bake sale fudge recipe -- I suspect that not all kids are going to appreciate the nutmeg flavor.
So this is a simple recipe (really 5 minutes of prep, 10 minutes of cooking and 2 hours in the fridge and I am sure you will enjoy this)
Ingredients
1 (7 ounce) jar marshmallow cream
1 1/2 cups white sugar
2/3 cup evaporated milk
1/4 cup butter
1/4 teaspoon salt
2 cups milk chocolate chips
1 cup semisweet chocolate chips
1/2 cup chopped, toasted walnuts
1 teaspoon vanilla extract

Spice it up options:
1/4 teaspoon Nutmeg
1/4 teaspoon Allspice
1/2 teaspoon Cinnamon
2/3 Cup of Coconut
Cooking Directions
Line a 8x8 inch or 7x13 pan with aluminum foil. Set aside.
In a large saucepan over medium heat, combine marshmallow cream, sugar, evaporated milk, butter and salt. Bring to a full boil, and cook for 5 minutes, stirring constantly. Note, if you are going to add the spices, add them at the 4 minute mark of your boiling.
Remove from heat and pour in semisweet chocolate chips and milk chocolate chips. Stir until chocolate is melted and mixture is smooth. Stir in nuts and vanilla. Optional - add coconut. Pour into prepared pan. Chill in refrigerator for 2 hours, or until firm.
Lift the aluminum foil from the pan, turn upside down on a cutting board and peel off the foil. Cut into 1 inch squares. You can refrigerate or just put in a container and leave unrefrigerated if you are going to eat it (or give it away) soon.

Cooking Notes
The base recipe makes great, creamy fudge - perfect for kids (and people who are looking for a straightforward chocolate taste --- there is no guesswork in what makes it taste the way it does).
If you are looking for a bolder flavor (I call it adult fudge), try the spices. The measurements I have put in the recipe work well for me, but even after making this a few times, I am not convinced that it can't still be tweaked. I wouldn't add more of any of the spices (nutmeg, cinnamon, or allspice), but I do occasionally add a bit less - and even omit one of them. Adding anise seed is another one I am going to try.

Also, I have always added the spices near the end of the boiling (and by the way, don't start your 5 minute timer until you have a full boil), but there might be an earlier phase to add them and get better results (not that I am not pleased with the outcome).

The coconut adds an extra depth of flavor - I particularly like adding it when I add the spices (and not as much when I just make regular). It adds a little bit of sweetness that works well with the spice combination (not so sweet that most people even know it is in there). Additionally, it adds a texture that doesn't exist in the base recipe. The downside (not that there has to be one) is that the fudge is more brittle. It's possible that if I leave it longer to set, it won't be, but I think that the addition of the coconut does cause this - so that is something I wanted to note.

On the pictures listed as optional below, I even omitted the salt (that was unintended) - but I didn't miss it. I know a little salt helps in the cooking process, but I guess I don't know enough about why to say whether it is needed.
Also, there are 2 ways to toast the walnuts (and neither is wrong). Either melt some butter and sauté them (for lack of a better term) or put them in a toaster oven, coat with some butter cooking spray and toast them. You end up with 2 different flavors. Next time I make these, I am going to do half and half.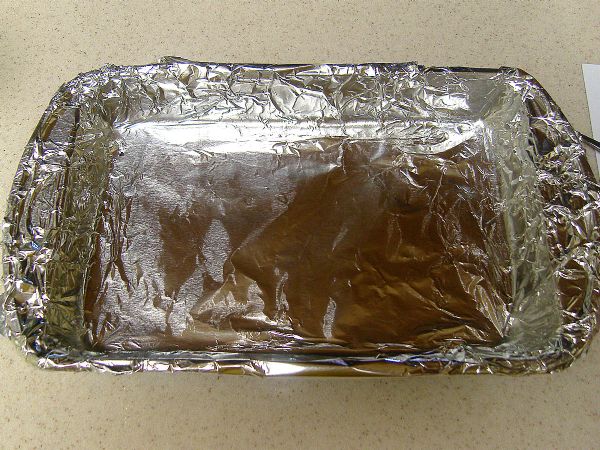 Line a pan with foil (this is a 7 x 13 inch pan an 8 x 8 is ok as well)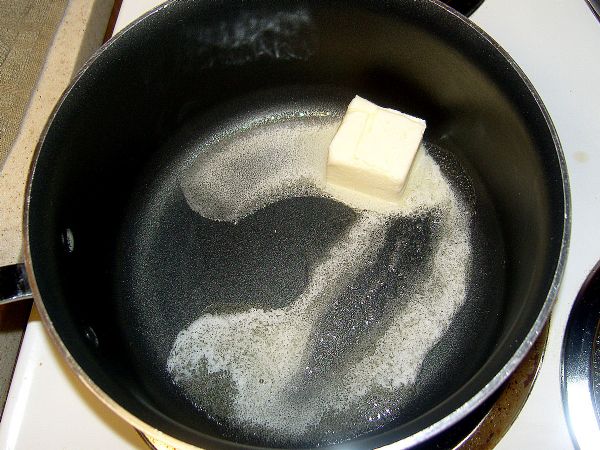 Melt butter for fudge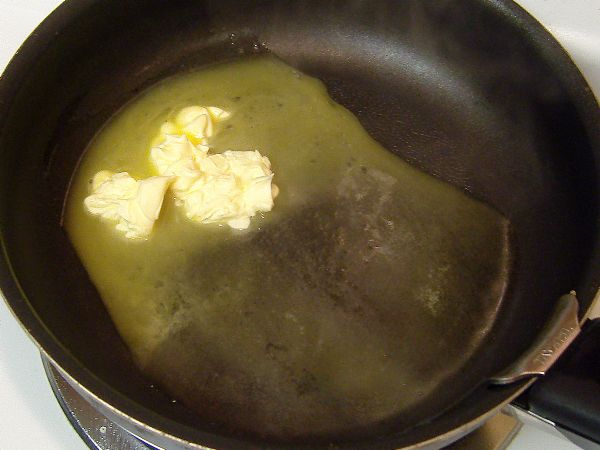 Meanwhile, melt butter to toast the chopped walnuts.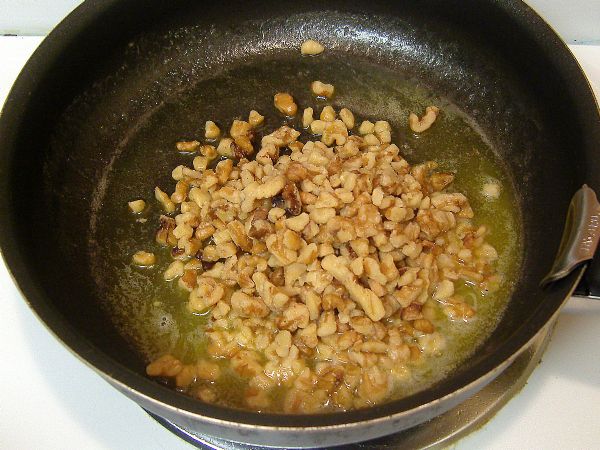 Toast walnuts over low heat while the fudge is cooking.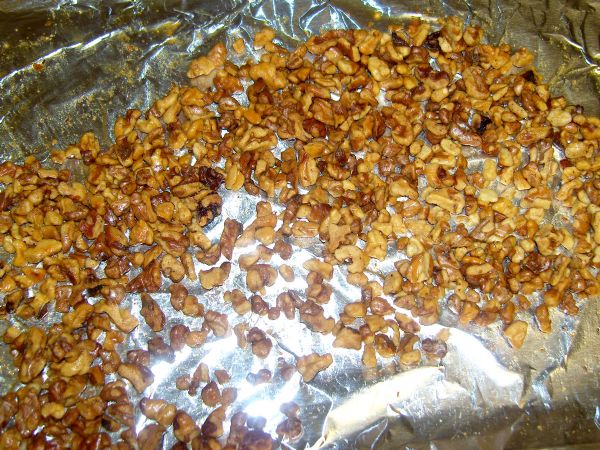 (Optional - toast in toaster oven on lined tray and sprayed with a butter cooking spray)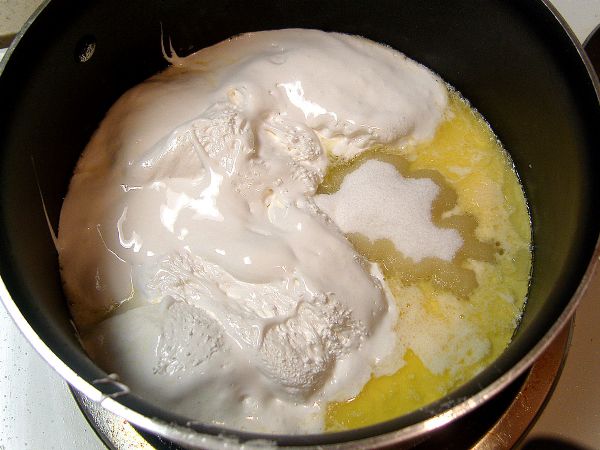 Combine marshmallow cream, sugar, evaporated milk, and salt with the (fudge) butter.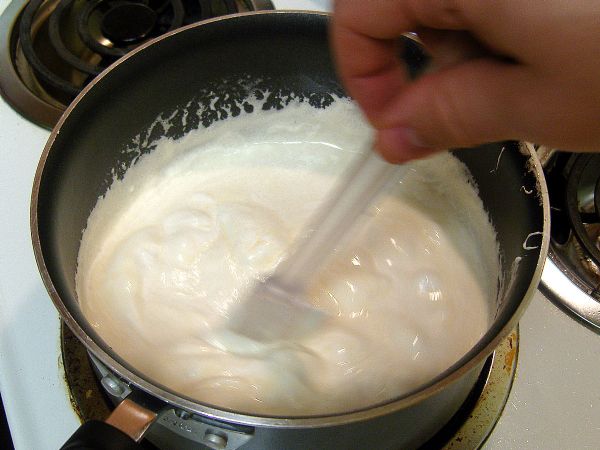 Mix and bring to a boil.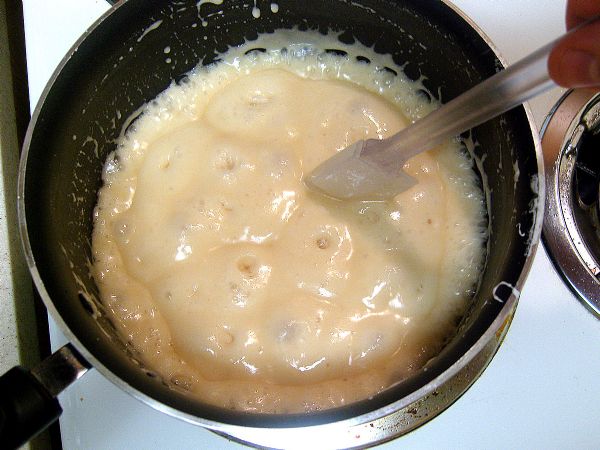 Stir continuous for 5 minutes.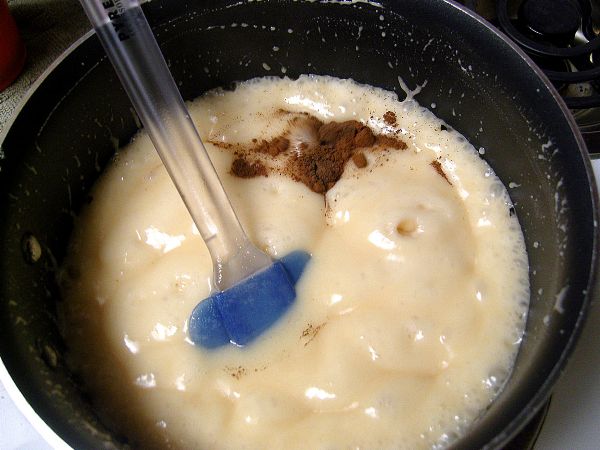 (Optional - add spices at the 4 minute mark continue to stir)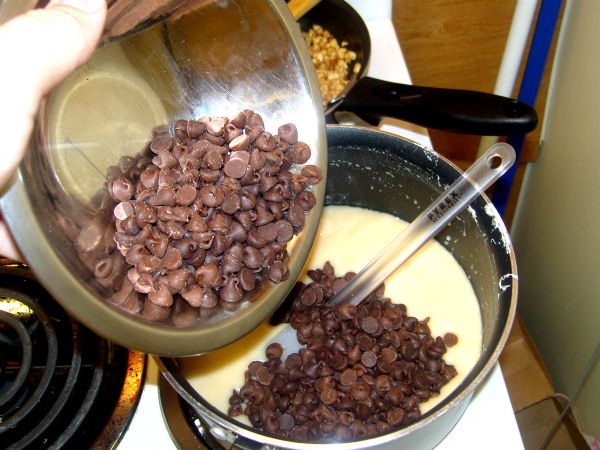 Add chocolate chips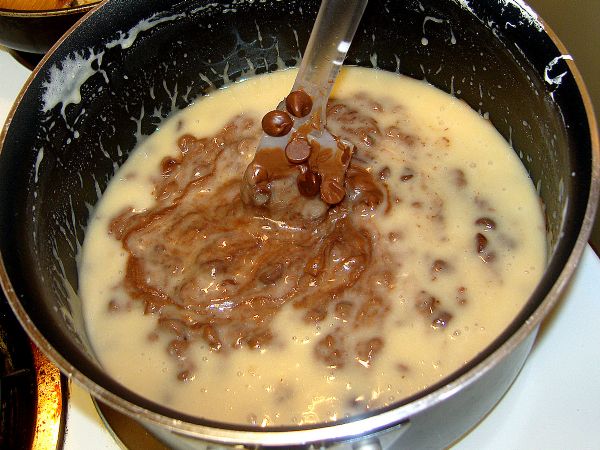 Stir as chocolate melts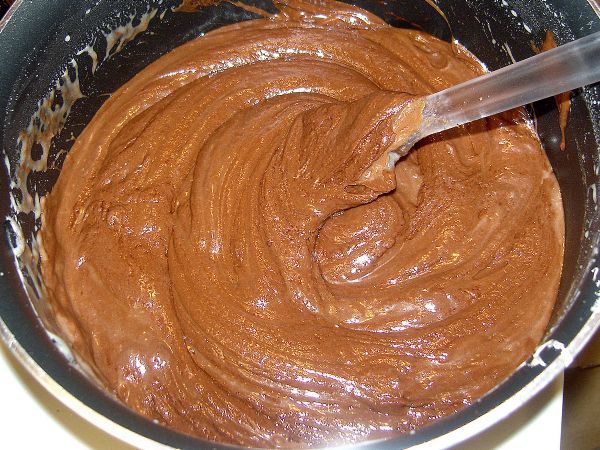 Stir and combine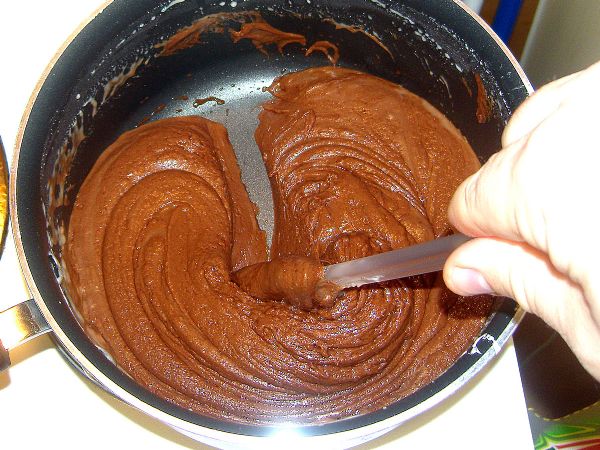 When it gets thick, it is done.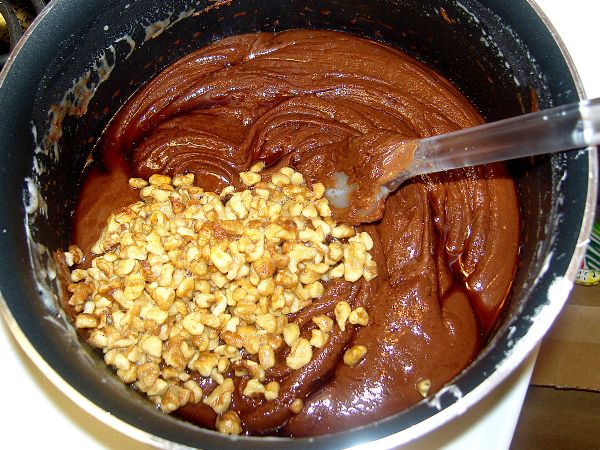 Add walnuts and vanilla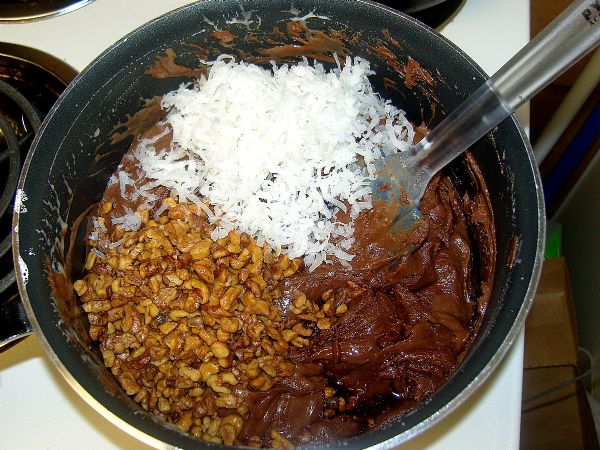 (Optional - add coconut)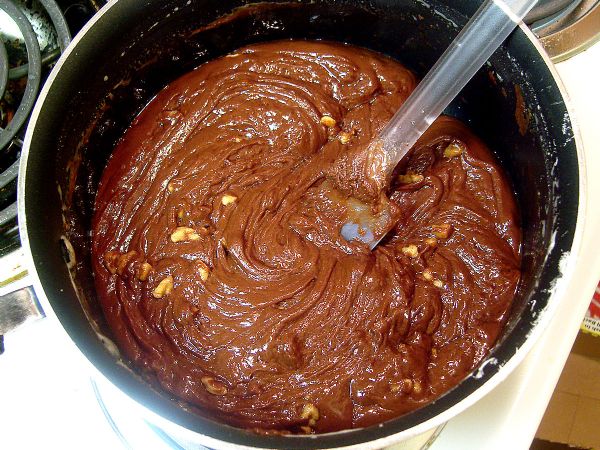 Combine until the vanilla gets mixed into the fudge
This shows the optional mixture - not much difference (you can't even see coconut), the toaster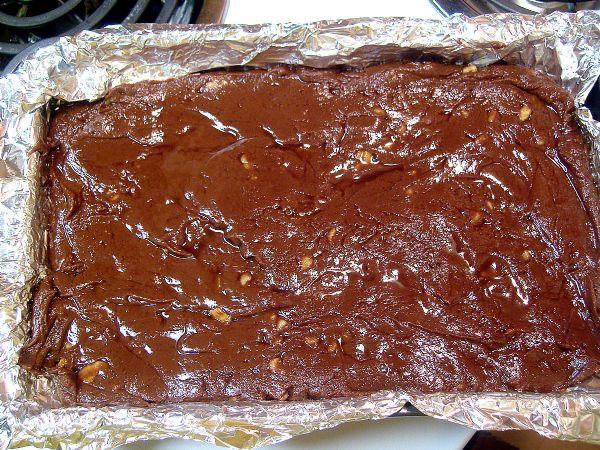 Pour into pan and spread smooth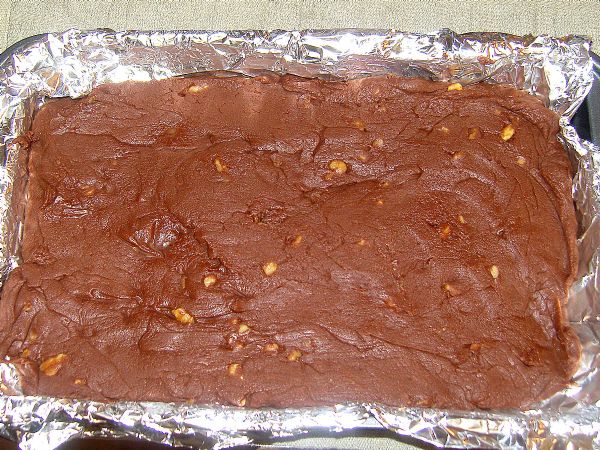 After refrigerating for around 2 hours, it is ready to cut.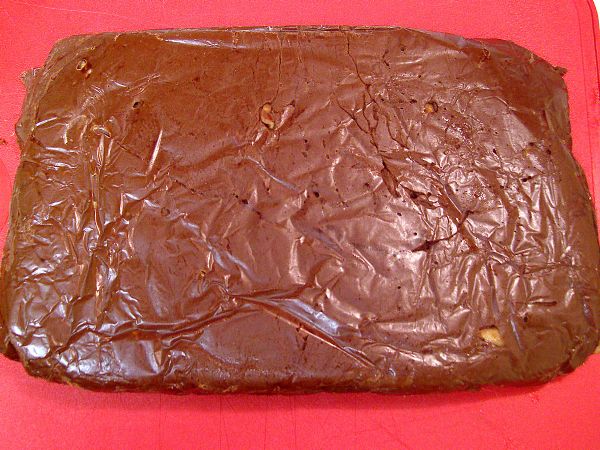 Remove from pan. Turn upside down and put on cutting board.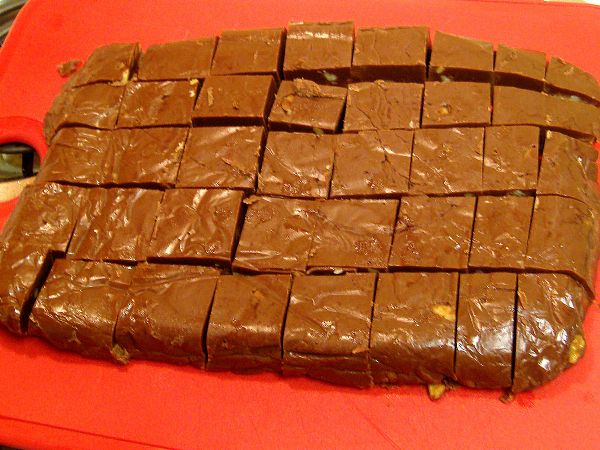 Cut into 1 inch squares.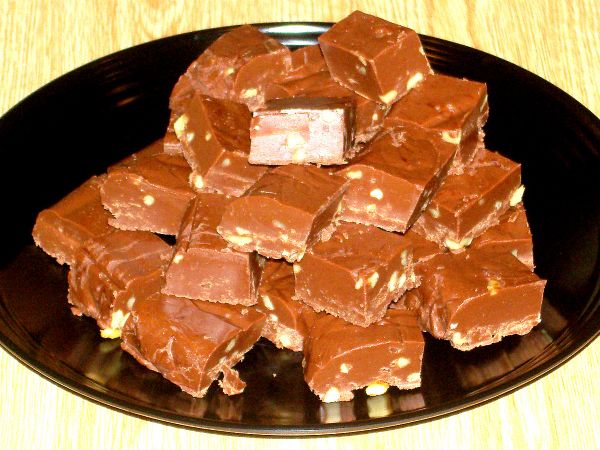 Serve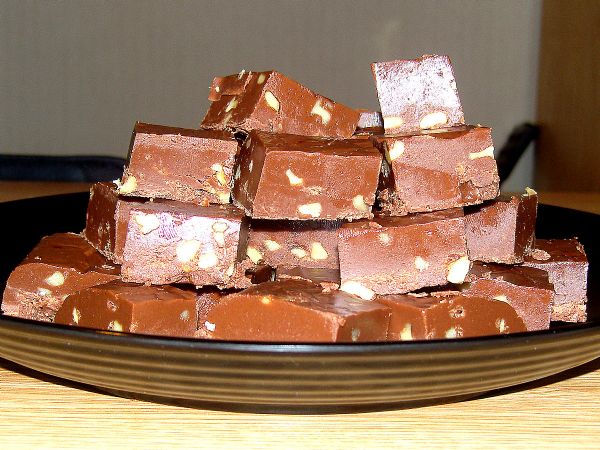 Chocolate Fudge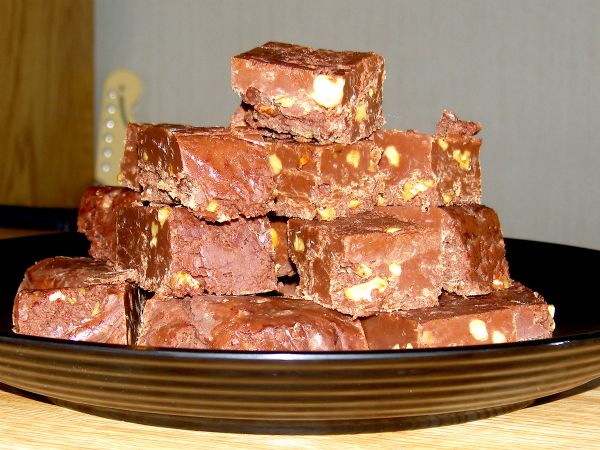 This was the spiced up version the biggest visual difference (and texture) is that these aren't