During my time in the PhD program, I started cooking more and more. I decided one day that I wanted to try to cook a prime rib, but didn't even know what cut of meat I needed. So, I went to my butcher and asked him where the prime rib came from. He brought out a large hunk of ribeye with the bone in and showed me. Then he told them that he could cut out whatever section I needed.
The normal cost for ribeye was around $10 a pound, so a 5 pound prime rib was going to cost around $50. I told him that I was just gathering information and really had not even thought through how I was going to cook it. He replied by telling me that they were having a manager's special during the weekend where they would sell the prime rib for $4.50 a pound. That brought the cost of the prime rib down to $22.50, so I bought it.
When I cooked it (with the recipe below), it came out so good that the next day, I went back and got another 5 pound prime rib to cook later in the week.
Ingredients
1 5 pound prime rib roast
10 cloves garlic, minced
2 tablespoons olive oil
2 teaspoons salt
2 teaspoons ground black pepper
2 teaspoons dried thyme
Optional - toasted, then ground:
1/2 teaspoon coriander
1/2 teaspoon fennel
1/2 teaspoon cumin
Cooking Directions
Place the roast in a roasting pan with the fatty side up. In a small bowl, mix together the garlic, olive oil, salt, pepper and thyme (and optional: fennel, coriander and cumin). Score the fat. Spread the mixture over the fatty layer of the roast, and let the roast sit out until it is at room temperature, no longer than 1 hour.

Heat the oven to 460 degrees.

Bake the roast for 12 minutes at 460 then turn down to 400 for 8 minutes, and then 350 until the internal temperature reaches 125 degrees for medium rare (be sure to check multiple parts of the meat - sometimes one part is 125 but another part is 100 -- in fact, look at the pictures below and you will see that part of the finished product is medium rare and the other part is medium to medium well).

Remove roast from the oven. Cover with foil. Allow the roast to rest for 10 or 20 minutes (let internal temperature rise to 135) before carving so the meat can retain its juices.
Cooking Notes
You can try this with other oils. I have used olive oil, canola oil and grapeseed oil.
I have cooked this in several different cooking vessels. I like the cast iron skillet because the size is appropriate and it is the easiest to clean. Once the prime rib is done, you can also collect the juices to make an au jus. I'll add that recipe later.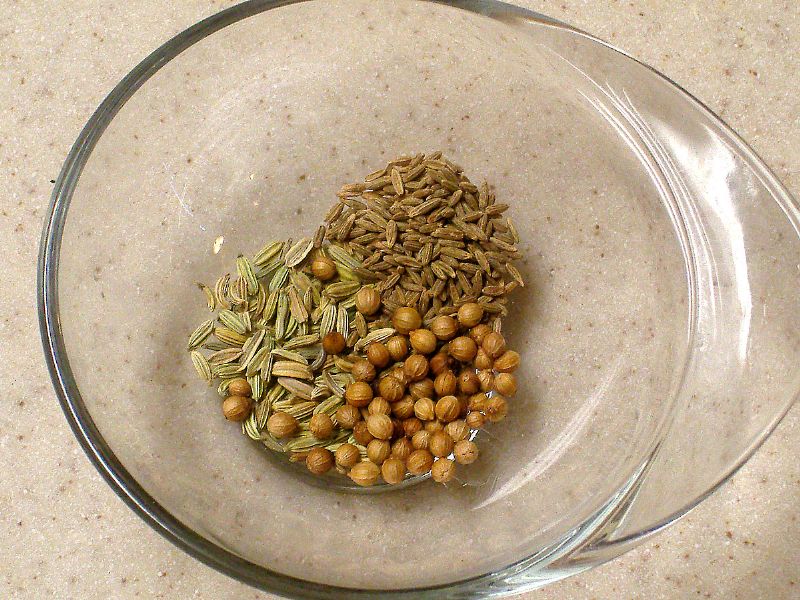 Coriander Fennel and Cumin Seeds.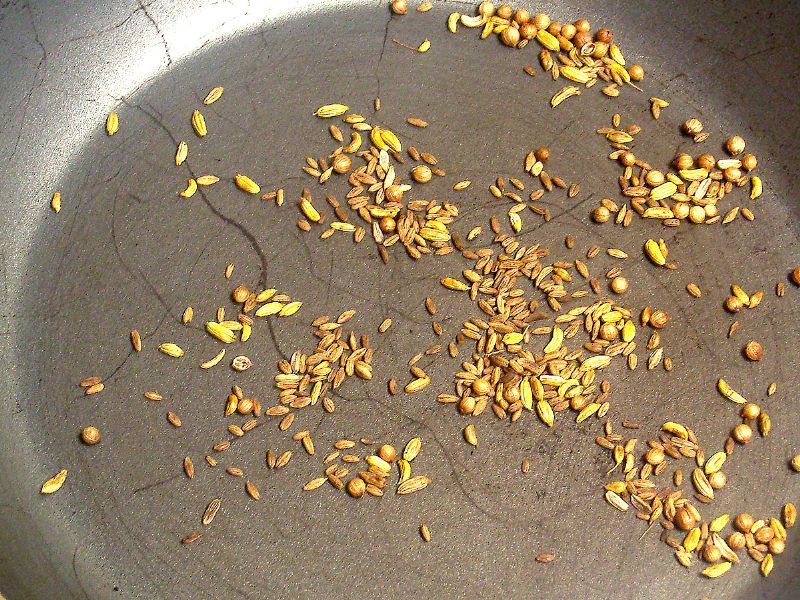 Toasted - get the skillet hot and this will take less than 30 seconds. Then grind.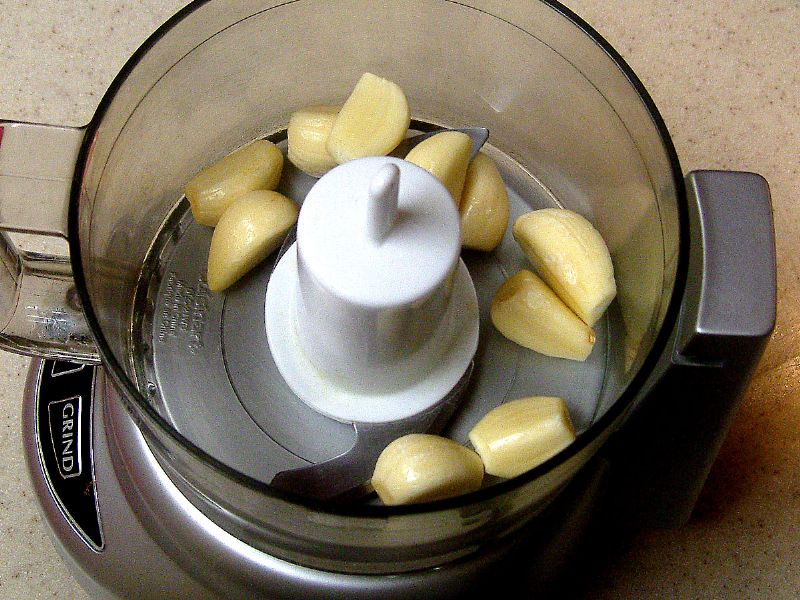 10 Garlic cloves in a food processor.
Chopped - about 7 short bursts.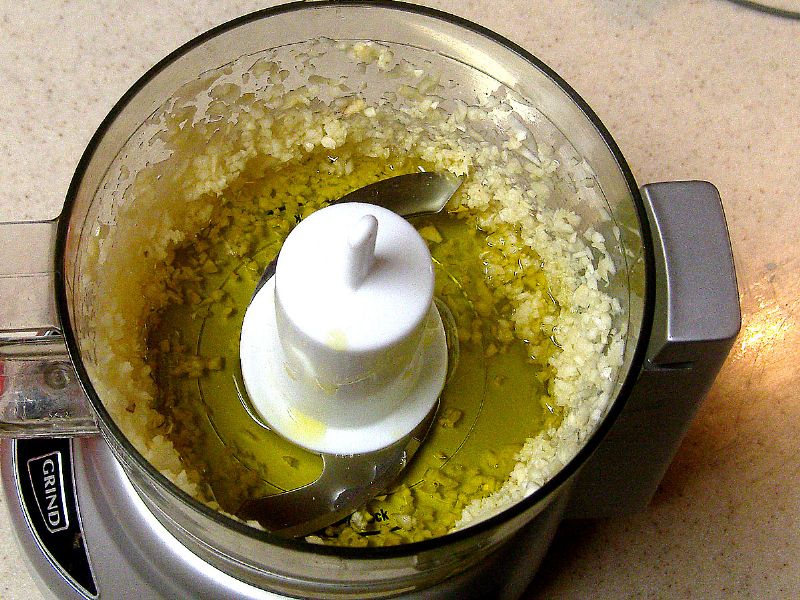 Add the olive oil.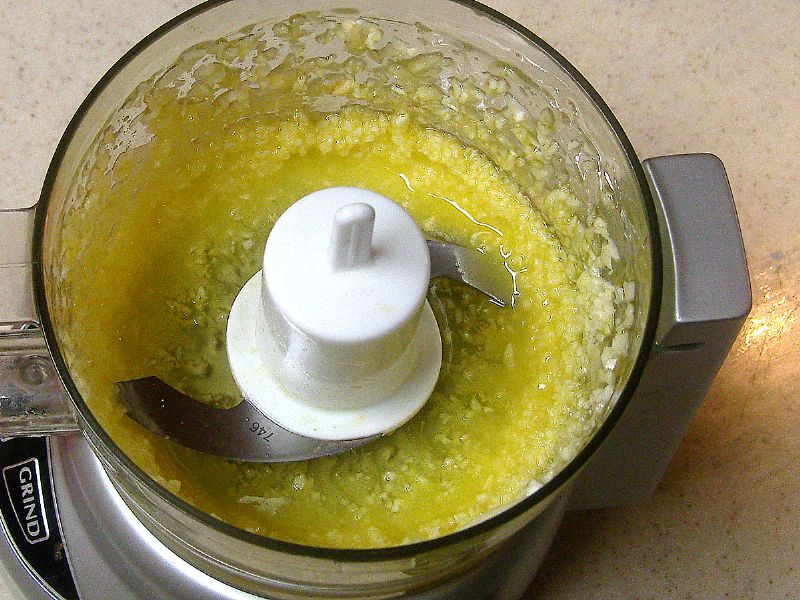 And chop.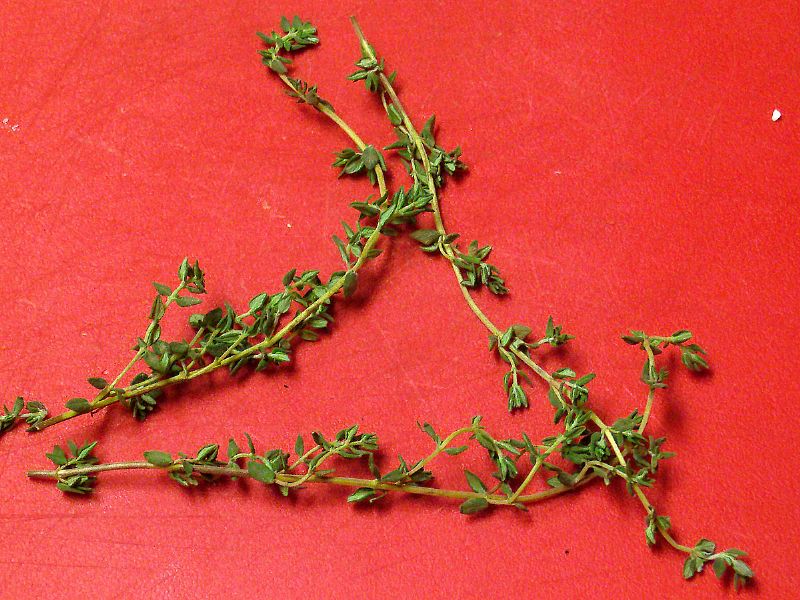 Fresh thyme - dried thyme works also, but I like it fresh if I can get it.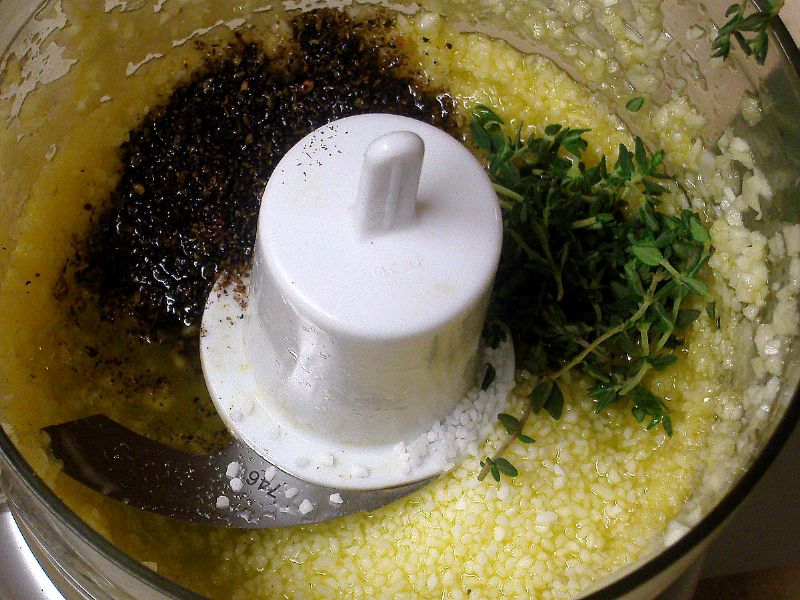 Add the thyme, salt and pepper and chop again (6-9 bursts).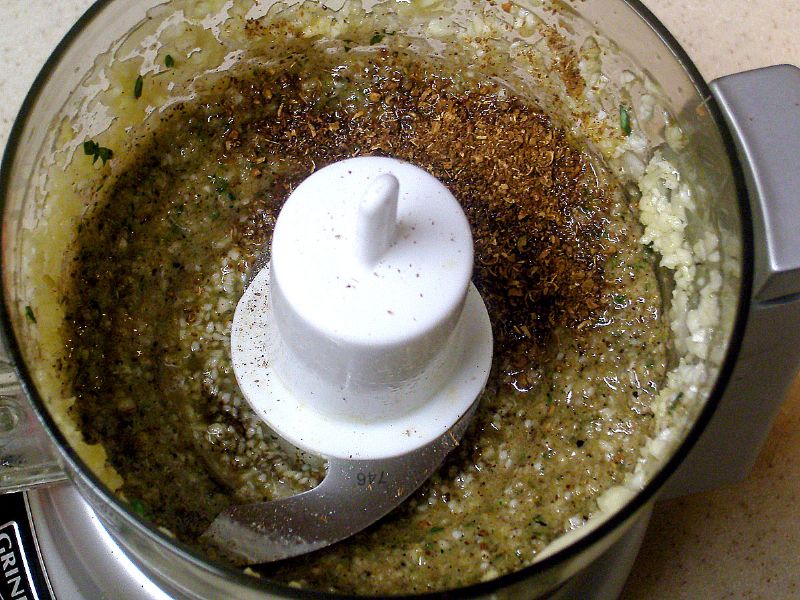 Add the fennel, coriander and cumin mixture and the crust mixture is done.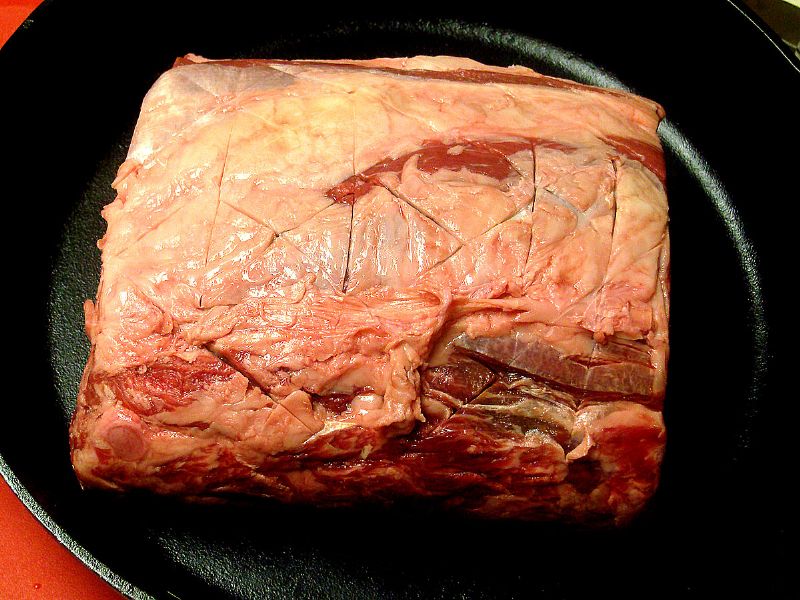 Put meat in cooking pan and score.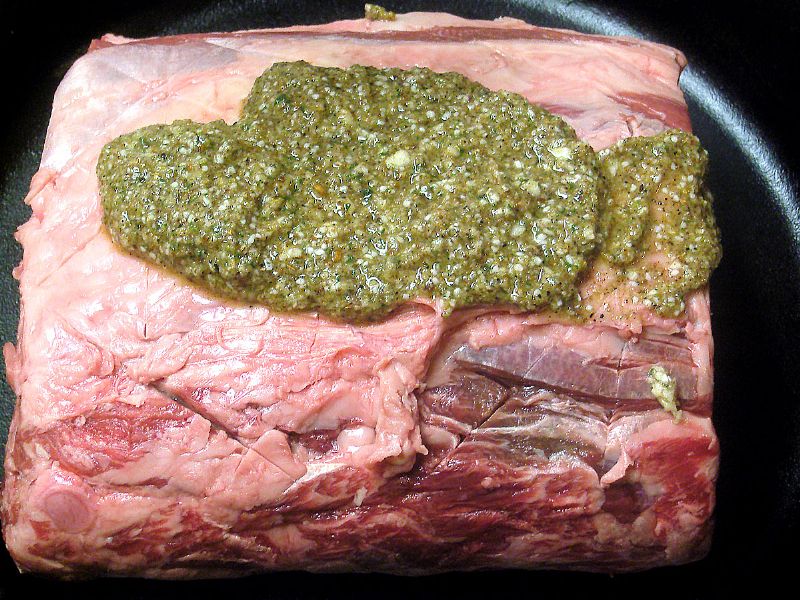 Use a spatula to put mixture on the meat.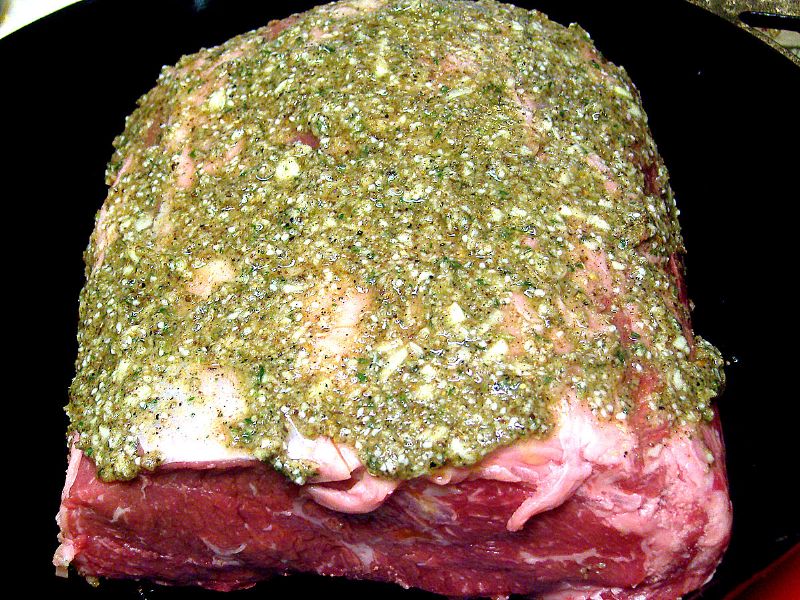 Spread evenly. I clean up the drippings so they don't burn.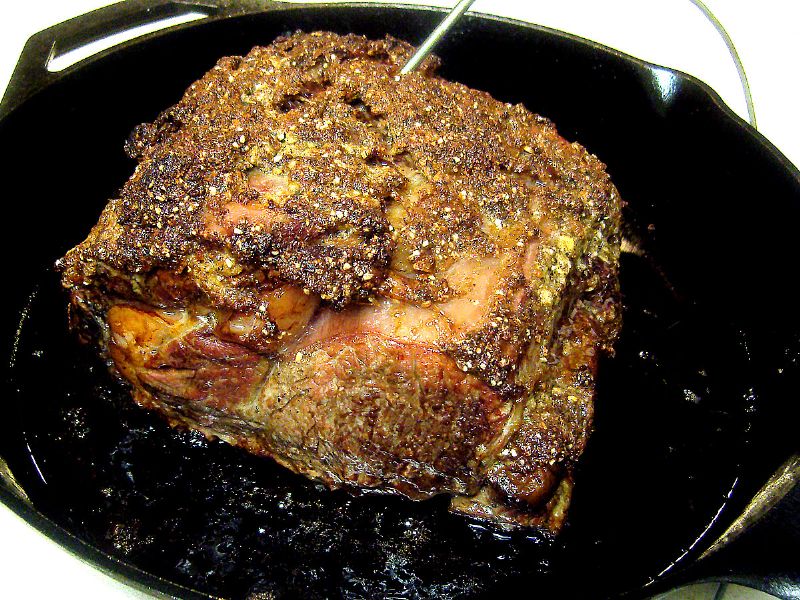 Cook as directed above.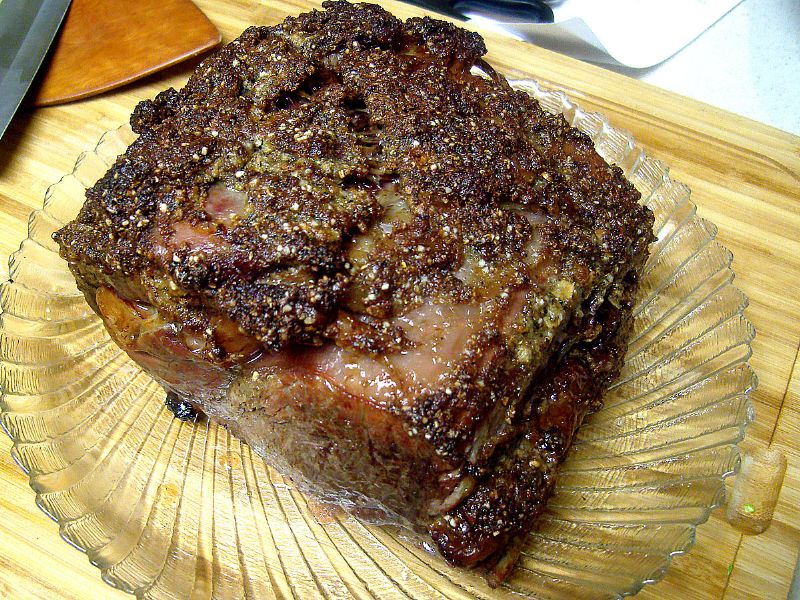 Allow to rest for 10-15 minutes (cover with foil - not shown).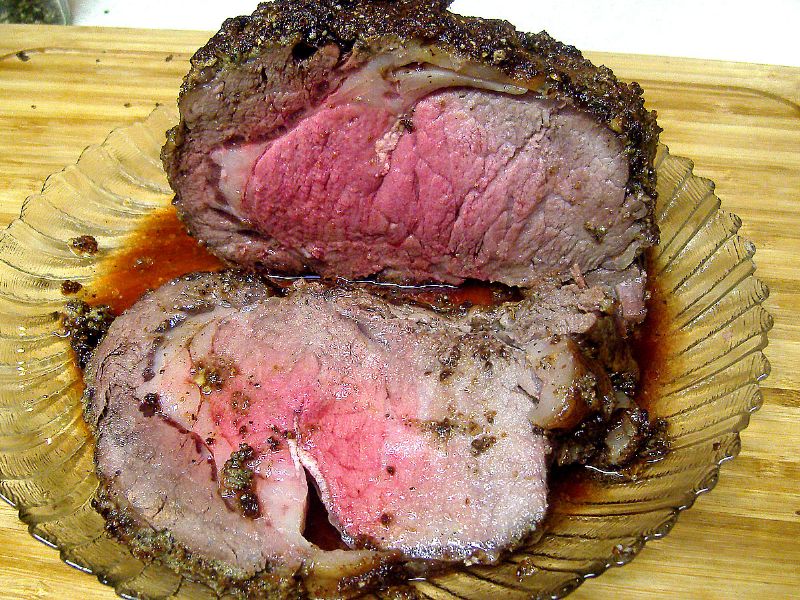 Cut (this is more medium than I normally make it (I had guests...))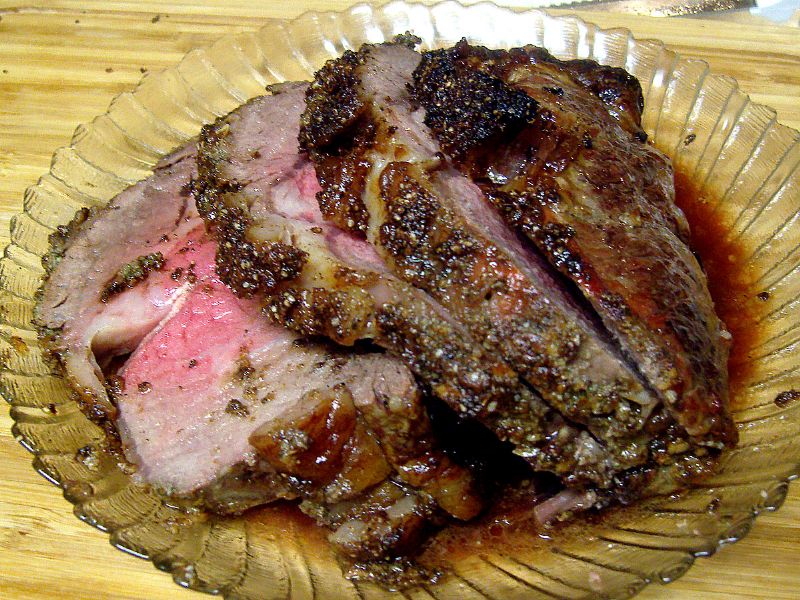 I bought a $7 electric knife - it was a great purchase and made cutting very easy.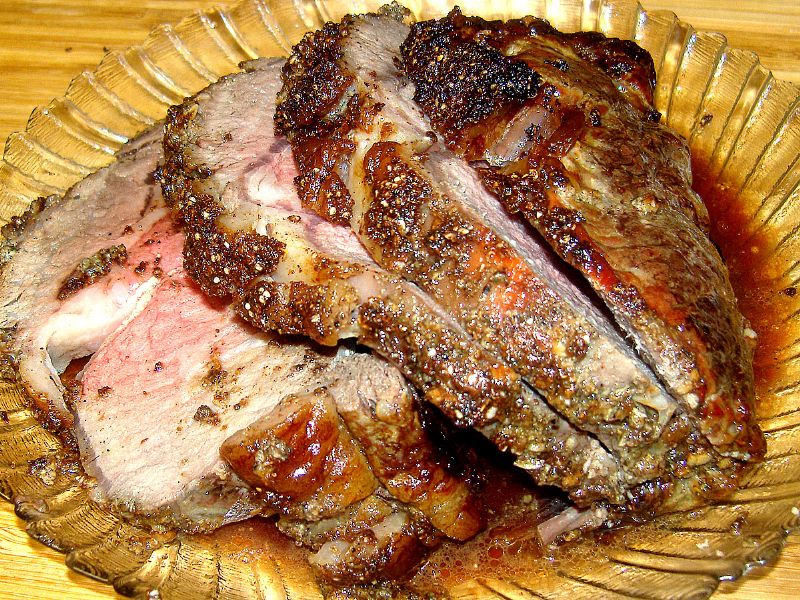 Nice, even slices.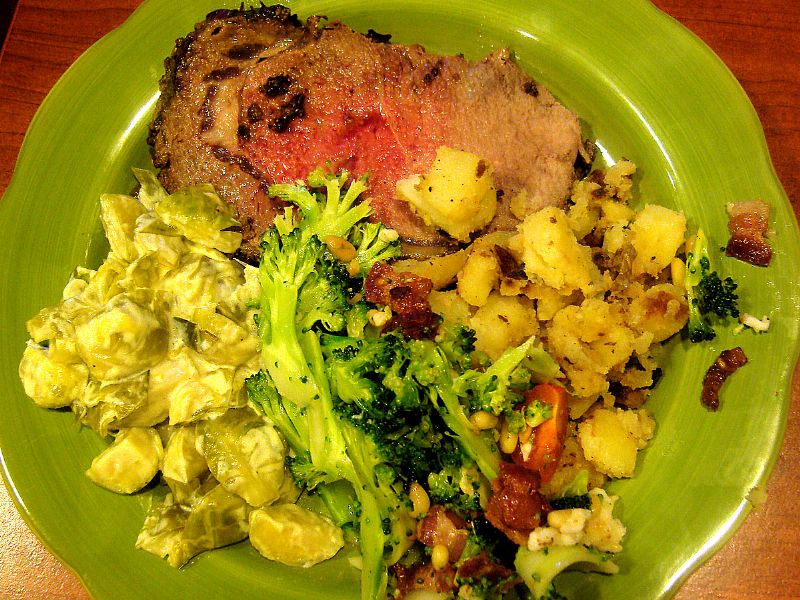 Serve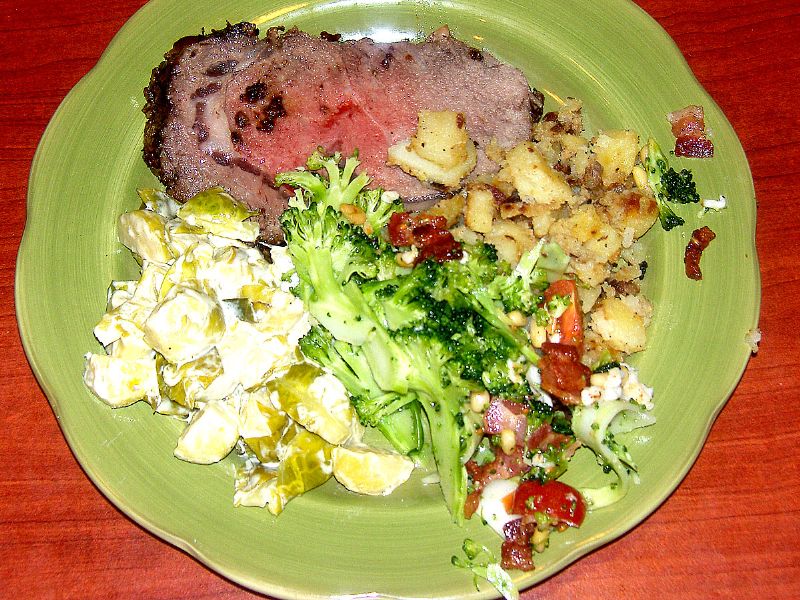 Garlic Prime Rib